'Guardians of the Galaxy Vol. 2' Casts Newcomer But Loses McConaughey
Actress Pom Klementieff was added in a mystery role, while Matthew McConaughey passed on the villain part.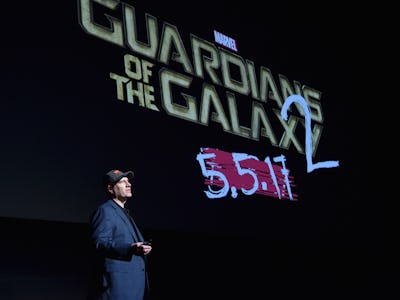 Getty Images
The main cast of Guardians of the Galaxy Vol. 2 has been in place for a while now, with the likes of Chris Pratt, Zoe Saldana, Dave Bautista, Bradley Cooper, and Vin Diesel all returning to their roles from the first movie. Now it looks as if director James Gunn has locked down a new addition even as he lost a potential big-name newcomer.
Canadian-born French actress Pom Klementieff just landed a mystery role in Vol. 2 following what The Hollywood Reporter says was a wide-ranging search for an Asian actress. She previously appeared in a handful of French television roles, the thriller Sleepless Night, and in Spike Lee's adaptation of the dark drama Oldboy, her American film debut.
Her casting puts her in the same Marvel universe as her Oldboy co-stars Josh Brolin (who will play Thanos in the upcoming Infinity War movies), Samuel L. Jackson (Nick Fury), and Elizabeth Olsen (Scarlet Witch).
Evidently the casting process required Klementieff to take part in extensive chemistry reads as well, which are niche casting sessions that take place between two characters who are closely related in a script. This means Klementieff is stepping into a big role of some kind, but Marvel is staying mum on just who she's playing and who her character will be linked with. You can kind of see her playing a kickass alien of some kind, like Karen Gillan's Nebula from the first movie, but your quality guess is as good as ours.
While Klementieff is on board, it seems a recent Oscar winner is not. According to Variety, Gunn apparently offered the sequel's villain role to Matthew McConaughey, who passed for undisclosed reasons. He apparently wants to keep the McConaissance rolling someplace else.
Expect an announcement of who fills the vacant villain role sometime soon as the movie starts production in early 2016 before arriving in theaters on May 5, 2017. Alright, alright, alright.