Idris Elba, Matthew McConaughey to Star in 'The Dark Tower'
After years in development, 'The Dark Tower' adaptation finally got a shot in the arm with the announcement of some truly inspired casting.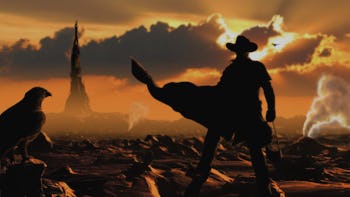 gamebreaker.tv
"The man in black fled across the desert and the gunslinger followed."
The words begin one of Stephen King's earliest and most beloved works: The Gunslinger, the first book in King's The Dark Tower series. The slowly paced Western follows a man who's out for revenge, stalking a powerful dark magician — and complete shit-head — across a bizarre, forbidding, parched landscape.
Today, the film got a jumpstart in the hype department when King — who's been advocating for this adaptation for years — announced via Twitter that the film was officially a go.
Even better, the prolific author revealed the two men who had been cast to duke it out over the fate of Mid-World: Idris Elba and Matthew McConaughey. Time to start getting excited, folks.
Now, the rumblings that McConaughey might be cast as the series' villain, the dastardly man in black, Randall Flagg, has been around for a few months. In fact, as early as last November, our own Eric Francisco praised the possibility, saying, "there is probably no one else better suited to play Randall Flagg."
A-freaking-men. In his last few years on screen, McConaughey has finally developed into a talented actor. He's managed to trademark his own brand of laughing intensity that's perfect for the villain in The Dark Tower.
Putting Idris Elba in the role of the film's lead, the dual-revolver-wielding Roland Deschain, the grim but stalwart hero of The Dark Tower, is perhaps an even more inspired choice. Elba is absolutely the perfect choice to embody King's stalwart, unflinching anti-hero. Though he originally envisioned a "Clint Eastwood" type in the role, King himself emphatically praised the choice, telling Entertainment Weekly, "I love it. I think he's a terrific actor, one of the best working in the business now."
There's another statement that's easy to support. Elba is a way more talented actor than Eastwood ever was, and he's got that rare ability to convey a great deal of emotion while doing very little, a trait that's necessary to bring the stoic Roland to life. Even more, Elba proved just last year, in Netflix's spectacular Beasts of No Nation, that he's readily able to bring Roland's darker character traits to life.
To be totally honest, up until now, even with the film moving slowly out of its decade-long development nightmare, it's been difficult to muster much excitement for The Dark Tower. It's being helmed by Nikolaj Arcel, a Danish filmmaker probably best known for adapting The Girl With the Dragon Tattoo for its original foreign audience. His last film, A Royal Affair performed well with critics, but with a total worldwide gross of $7,594,693, it's safe to say the only people who watched the film are the casting agents who handed Alicia Vikander a career.
In other words, there's been little about Arcel's previous body of work that would make him seem like an ideal choice for Stephen King's unyielding psychedelic Western. That said, there's proof he knows which decisions to make when adapting novels, and given his choices for the film's leads, it's easier to get more comfortable with his as-yet-unrevealed vision.
Perhaps even more comforting is the knowledge that at least one draft of The Dark Tower was written by veteran screenwriter Akiva Goldsman. Add to that the fact that development of the project is being overseen by an enthusiastic Ron Howard and Brian Grazer through their production company Imagine Entertainment and the pedigree starts to look a little more enticing.
There's still one hell of a lot of hype to go, though, as the film is set for release January 13, 2017, an agonizing year away.