'Scream Queens' Makes the Case for Stunt Casting 
How Fox's sitcom proves that stunt casting still can be effective.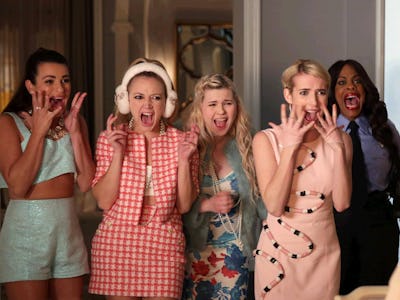 Fox/ Scream Queens Facebook page 
When Scream Queens posters first appeared last fall, it looked like a bad show with an insufferable cast. It boast multiple former teeny-boppers from the Disney set (the smallest Jonas brother, Arianna Grande), former child stars (Emma Roberts) and actors who are kids of former stars (Billie Lourd, aka Carrie Fisher's daughter), and actors who looked like they were only in the show because Zac Efron said no (Glen Powell). But then something strange happened. Through some alchemy of unlikely stunt casting, and the right amount of absurdity, Scream Queens nailed the horror-comedy tone.
In other words, it was actually, improbably, wildly entertaining.
Season 2 returns in September, and it's not pumping the brakes on unlikely, seemingly unpleasant or ridiculous casting. Far from it.
America's Hot Dad John Stamos is playing a doctor named Brock Holt who is apparently "brilliant but secretive," because of course. Meanwhile, Taylor Lautner, otherwise known as the only actor in Twilight who was adorably actually trying, unaware of what kind of movie it was — and more recently, one of the star in the Adam Sandler movie Ridiculous 6 — will also be playing a doctor.
Ryan Murphy is rather notorious for his stunt casting, with Lady Gaga on American Horror Story perhaps being the most extreme and memorable example, but other shows should look to the Scream Queens method of unlikely yet oddly perfect casting. Between that and Ash vs Evil Dead, fall will be the season of glorious horror-comedy making one hell of a comeback.