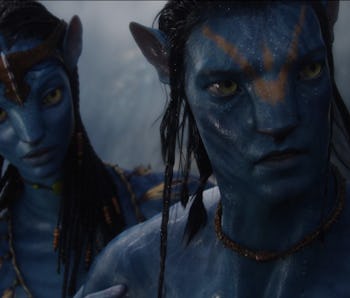 Entertainment
The 'Avatar' Sequels Will Focus on Jake and Neytiri's Kids
Facebook / Avatar
For awhile the only chatter about filmmaker James Cameron's Avatar sequels was how many movies he'd make, but the filmmaker just dropped some hints about the plot of the follow-ups to the highest grossing film in cinema history.
"The storyline in the sequels really follows Jake and Neytiri and their children," Cameron told Variety. It's more of a family saga about the struggle with the humans."
Cameron initially chatted with the publication about Toruk, the Cirque du Soliel show that takes its name from the huge dragon creature tamed by Sam Worthington's character in the first film.
The live show is somewhat of a prequel to the events of the movie, but Cameron said that the plot of the stage prequel won't directly tie into the four planned sequels. Though he did admit, "I love some of the costumes and hairstyles, so we might create a resonance there where you actually see some of the things that you see in Toruk come into the design of the films."
Details had been scarce about Cameron's follow-ups, but we assume based on Cameron's comments that former human Jake (Worthington) has fully assumed the identity of his avatar and assimilated into the Na'vi tribe. It's safe to say that he and Neytiri (Zoe Saldana) will probably get hitched, have some little baby blue cat kids to teach to ride dragons, and try to live through the struggle of the war with the humans on the Na'vi homeworld of Pandora.
Like Star Wars, it seems the Avatar saga will be all about family.
So when will we actually get to see these new Avatar movies? Rumors swirled that Cameron would start shooting the first sequel in 2017 for a Christmas 2018 release, but Cameron said he isn't too stressed about that.
"The important thing for me is not when the first one comes out but the cadence of the release pattern. I want them to be released as close together as possible," he said. "If it's an annual appointment to show up at Christmas, I want to make sure that we're able to fulfill on that promise."
Still, Cameron would we wise to shoot for the Christmas release window starting in December 2018. The regular holiday spot reserved for Star Wars is free that year, as the planned Han Solo standalone movie is scheduled for May 2018 and Episode IX is planned for May 2019.