'Avatar 2' Delayed From December 2017, Won't Go Up Against 'Star Wars'
The most epic showdown in box office history between James Cameron and 'Episode VIII' is no more.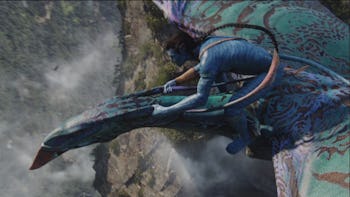 www.facebook.com/Avatar
James Cameron likes to take his time, so instead of waiting merely eight years between making box office champ Avatar in 2009 and its first sequel in 2017, fans will have to wait a bit longer. Avatar 2, the first of three planned sequels from the director, has been delayed from its proposed December 2017 release window.
This is disappointing news for blockbuster film fans who were prepping themselves for the biggest face off in box office history. News broke earlier this week that director Rian Johnson's next installment of the Star Wars saga had been delayed from May 2017 to December of that year, putting it in direct competition with Cameron's Avatar sequel.
With both immediate precedents as two of the highest grossing movies ever made, it suddenly had movie fans champing at the bit for a blockbuster battle royale. The struggle for which movie would get which IMAX screens would have been the stuff of legends. Sadly, if sanely, Cameron balked and decided he needed more time.
Strangely enough, Avatar's studio, Twentieth Century Fox, never officially announced a release date, but December 2017 was confirmed by Cameron himself when he talked to the Montreal Gazette just last month. "Christmas of '17 is the target," he told them, but added, "But I don't consider that to be as important as the fact that when we get all three films done, we drop them a year apart. I call it a meta-narrative that runs across the three movies. Each film stands alone, but it also tells one much larger story."
So it seems as though Cameron sort of wanted to do what Johnson will get to do with Episode VIII and have a bit more time to tinker with his movie, except Cameron, a legendary megalomaniacal perfectionist, has the huge responsibility of planning out three movies instead of just one. Cameron's plan is to shoot all three at the same time a la The Lord of the Rings to save on costs, and schedule them out annually. If Fox wants to avoid Christmas altogether to leave that space for Star Wars, you can probably expect Avatar 2 in the summer of 2018 with the third and fourth planned movies following up in the summers of 2019 and 2020.
Though the epic box office showdown would have been great, the release date switch is a win for both movies. Star Wars has Christmas locked up to make all the money with merchandise and the movie itself, and Avatar can be the main event in the traditional blockbuster season.
Actors Sam Worthington and Zoe Saldana are set to reprise their lead roles and, despite her character's fate in the first movie, there may be a chance that Sigourney Weaver could return as well. Everyone will have enough time to prepare, but hopefully Avatar 2 won't be delayed again.