James Cameron Is Making All the 'Avatar' Sequels at the Same Damn Time
Cameron's roadmap for the final 'Avatar' films is ambitious.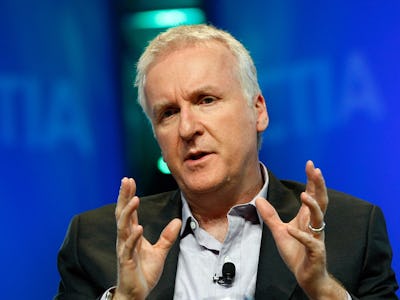 Ethan Miller / Getty
Filmmaker James Cameron is nothing if not bold. If you're the rightful owner of the top two highest-grossing movies of all time then you probably do whatever the hell you want. Last week at Fox's CinemaCon, Cameron cashed in his chips and announced he was working on four more Avatar sequels, with the first released in 2018, the follow up in 2020, the next in 2022, and (presumably) the last in 2023. If that wasn't bonkers enough, Cameron had an interview with Famous Monster of Filmland and expounded upon this new avalanche of Avatar.
The biggest development is that Cameron doesn't plan on shooting each movie back-to-back like normal sequential installments. Instead, he intends on completing the massive five-part saga as if it were a miniseries by shooting them concurrently. That's right, it'll be all Avatar all the time, at least for the actors involved.
Here's what Cameron said in the interview, replete with an ambitious comparison at the end:
"It's not back-to-back. It's really all one big production. It's more the way you would shoot a miniseries. So we'll be shooting across all [Avatar scripts] simultaneously. So Monday I might be doing a scene from Movie Four, and Tuesday I'm doing a scene from Movie One. … We're working across, essentially, eight hours of story. It's going to be a big challenge to keep it all fixed in our minds, exactly where we are, across that story arc at any given point. It's going to be probably the most challenging thing I've ever done. I'm sure the actors will be challenged by that as well. It's like, 'No, no, no, no, this person hasn't died yet, so you're still in this phase of your life.' It's a saga. It's like doing all three Godfather films at the same time."
Let's unpack that for a second. The dude who shot an entire Hollywood action movie underwater and also later basically re-sank the Titanic has admitted that this project will be "the most challenging thing he's ever done, akin to the Godfather series, which rank among the best films of all time. Cameron is an ambitious filmmaker, and he's taking it to the extreme once again.
He also admitted that he's planning on switching up the way he'll actually create the immersive alien world of Pandora for his sequels, telling Famous Monsters of Filmland:
"On the new Avatar films, I'm actually going to shoot more real-world stuff. It may only be there as an example from which we then generate CG, or we may actually integrate some of those photographic elements. But I want more photography."
So he's going to shoot real-life footage that he'll then have artists turn into CG creations? Real turns into fake to make it look real? Whatever JC, you're the boss. You've made all of the money by doing ridiculous things in movies before, and you're definitely not changing anytime soon.
Avatar 2 is scheduled for release in December 2018. Expect to hear an announcement of 20 more Avatar movies until then.