No Headphone Jack Means a Bigger iPhone Battery, Apple Says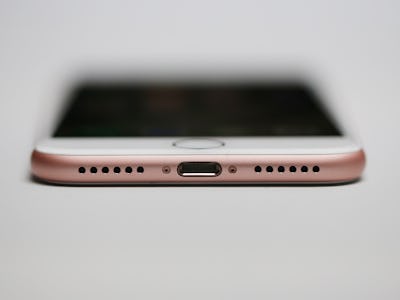 Getty Images / Stephen Lam
Apple unveiled the new iPhone 7 during its big event on Wednesday, and while most people are hung up about the removal of the classic headphone jack, the company says there were some unexpected design benefits to killing the outlet — like a bigger battery and better waterproofing.
In a lengthy story by John Paczkowski over on BuzzFeed, senior Apple executives explained why they made the controversial decision to kill the headphone jack, and better detailed what some of the hidden positive changes are.
According to the article, one of the chief concerns when designing the new iPhone was the improved camera. The bigger camera necessitated moving another important part of the phone, but there just wasn't space to fit everything.
Apple's senior vice president of hardware engineering, Dan Riccio, explained that the designers tried removing the headphone jack and fitting it in there, since the outdated (if ubiquitous) outlet was "just a hole filled with air," as he put it.
In addition to being able to fit everything into the phone, Apple found it had some unexpected extra space — enough to make the iPhone 7 and iPhone 7 Plus' batteries 17 and 5 percent larger, respectively. That's an extra two hours of battery life for the standard iPhone, and an extra one for the Plus.
Riccio also said that removing the jack helped Apple meet the requirements for an IP7 water resistance rating.
Apple was also able to more easily squeeze in the "Taptic Engine," which allows the iPhone 7 to be tapped without being clicked, just like newer MacBook models.
Sure, an extra couple hours of battery life is great, but it's somewhat less thrilling when iPhone 7 users need to use wireless AirPod headphones that can only hold a charge for five hours. The lack of a headphone jack is going to cause some headaches in the near future, regardless of the side benefits.
But Apple's senior vice president Phil Schiller essentially told BuzzFeed that we'd all get over it, comparing the jack to other technology that the company has done away with. "Do you miss the physical keyboards on your phone?" he asked.