Europe's Weirdest Startup Contest Is a 72-Hour Non-Stop Bus Ride
Three days on one bus going 50 miles per hour. Could you build a business?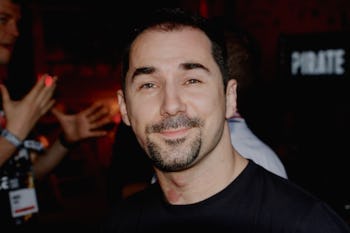 Mike Brown/Inverse
Viktor Nyics is jubilant. You would be too, if your business team had just put together a functional business plan while crammed on a bus going 50 miles per hour for three days with no sleep.
Nyics's team, Trustful, just won "StartupBus Europe," a Speed-like startup competition where competitors hurry to devise and develop a business idea while, like we said, sitting on a speeding bus with no sleep and a 72-hour time limit. Despite this, Nyics's team imagined, built, and released a functioning product they call Trustful: "a secure e-voting service, built by industry experts with security at its heart."
Nyics, a user experience designer, spoke with Inverse after the winners were announced on Tuesday at Pirate Summit 2016, Europe's largest — and probably weirdest — invite-only startup conference, held annually in Cologne, Germany.
How's it feel?
It's, as they would say, frickin' amazing, to keep it nice and gentle after the free beer we've been given in the Pirate Summit! Unbelievable, and … it kind of doesn't matter, because the whole experience was top-notch, whatever the result, and it's just indescribable right now!
So could you explain your winning idea to me?
So the whole problem that we recognized is the lack of enthusiasm and turnout on votes, and the reason why we didn't update it to the current technological level is probably safety, because the votes at the moment, they go to the ballot box and put it on the paper, which is almost nonsense. Chris and George, they were already experimenting with the blockchain technology, which is the absolute top-notch secure way to do almost anything.
In many platforms, they're still seeking out transparent and safe voting systems, and that's what we built!
Did you have the idea before you started?
No! Chris started the idea, and the team just pivoted, pivoted, pivoted, fixed the technology that they already had experience with. To do it on a level … you could say if you created this application in a couple of days it's an easy solution, but it's just not the case. They already played with that concept, so they had a deeper understanding and technical knowledge of the solution.
Is this your first time at Pirate Summit? What do you think of it?
It's just really so much harder than anybody would think, but if you know anything about startup life, you know hardship always brings out the best in you. That's what just happened.
Where do you go from here?
We have no idea right now! We are solving the situation, probably going to talk to people. Because unlike most of the hackathons, this hackathon was about: produce something and also release it, so make it real. Not just playing around with the concept. This is real, and it seems to be really interesting for many investors and businesses.
You can download Trustful from the Google Play store.