UK Voter Website Crash Shows Why Online Voting is a Pipe Dream For Now
For now, paper still reigns supreme.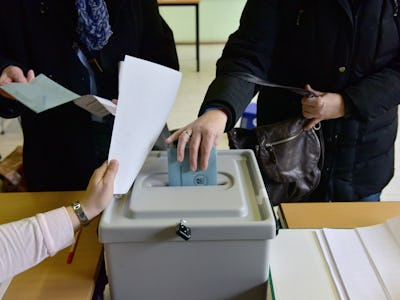 Getty Images
The U.K. government's website for voter registration crashed Tuesday night, sparking panic that citizens may miss out on casting their ballots. Voters scrambled to submit their application forms before the midnight deadline, in order to participate in a June 23 referendum on whether to leave the European Union. A sudden surge in traffic caused the service to collapse, raising questions about whether online democracy is really ready for primetime.
Politicians across the spectrum are now calling for a deadline extension after the fiasco. Jeremy Corbyn, leader of the center-left Labour Party, said on Twitter that the deadline has to be extended, given the circumstances. Corbyn was joined by Tim Farron, leader of the Liberal Democrats, and Nigel Farage, whose right-wing U.K. Independence Party is campaigning for a leave vote.
The site was only used to register voters, rather than to actually count votes in an election, but it does highlight some issues that may arise if democracies switched to an online ballot box. What happens if the site crashes near the deadline? Would the cut-off point get extended? If certain groups were seen as disenfranchised, like Firefox users who couldn't get the site to display, would this draw into question the result's legitimacy?
Tuesday's crash has left election officials in panic mode. U.K. prime minister David Cameron used Twitter to address the situation.
According to cabinet office figures seen by The Guardian, more than half of signups on Tuesday were from people under 34. This is a group that overwhelmingly supports remaining in the E.U., according to a YouGov poll released in March. Referendum polling data shows the two sides on near-equal footing, meaning any controversy over voter registration could resurface in the days following the referendum result. Had the site been used to actually count votes, it could have spelled big trouble for the days to come.
The site malfunction reveals certain areas in need of resolution for an online voting system. Some believe that the whole idea is a non-starter to begin with. One Stanford University professor has gone as far as to say that online voting would be "a complete disaster." David Dill, a computer science expert, described paper votes as the gold standard that democracies should stick to.
"From the perspective of election trustworthiness, Internet voting is a complete disaster," Dill said. "If you have an election system where fraud can be committed and – this is very important – that fraud is undetectable, then you don't really have a reason to trust the outcome of the election."
Some of the other problems that may surface, according to Dill, include emails that claim the election deadline has shifted, or computer viruses that change a user's vote with neither the user nor the government's knowledge.
Dill argued that fraud in paper-based elections is far easier to detect. "You have more-or-less indelible marks on the thing. You have physical objects you can control. And everyone understands it," he said.
Of course, paper has its downsides. U.S. election officials complained about the long primary queues in parts of the country, a problem that may be avoided with an online system. But if the alternative is a system that raises more questions about legitimacy than it answers, paper ballots may still reign supreme in the foreseeable future.