The Best DC Comics 'Rebirth' Playlists on Spotify
Don't just read comics. Listen to the music that inspired the stories on your DC Comics pull list.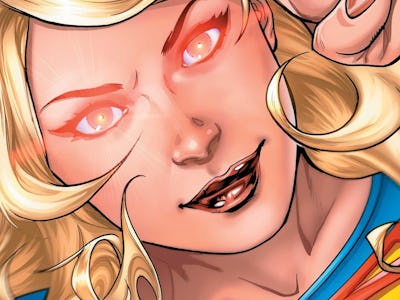 DC Comics
What music do your favorite superheroes like? One of the coolest things about DC's Rebirth isn't that Wally West is back. It turns out the music is pretty great too. To commemorate each series relaunched for Rebirth, DC had its writers and artists share the music they listened to while working on their comics, and those playlists are all available on Spotify.
Some playlists are plain fun: WWE wrestler Sasha Banks's theme "Sky's the Limit," which is an infectious and inspiring tune, is on the Supergirl playlist. Others are a little bizarre: The playlist for New Super-Man, Gene Luen Yang's comic about a Hong Kong teen wielding the powers of Superman, is full of Chinese pop, AC/DC, the Foo Fighters, and Beach Boys.
It's a small but enlightening dimension into the creative brains behind DC Comics, and it's all worth diving into. Turn up the volume and put on your headphones: Here are some of the best playlists that work really well with the books they're curated for.
DC Universe: Hellblazer #1
Beginning with Dr. Feelgood's "She Does It Right," Simon Oliver's playlist for his resurrection of John Constantine is predictably rough, rash, and full of English punk rock. MC5, the Clash, and the Undertones make the list, as do modern artists like Arctic Monkeys and Rammstein's "MEIN TEIL," which is perfect for DC's street magician. There's no Sex Pistols though, which feels a bit wrong, dunnit?
DC Universe: Green Arrow #1
At last, Green Arrow and Black Canary are back together, and Benjamin Percy made the amazing choice to start his playlist with Etta James's "At Last." It picks up with Nancy Sinatra's "These Boots Are Made for Walkin'," which is probably the best song for Canary, and the Avett Brothers's "November Blue," an acoustic pop you can imagine Oliver strolling through Seattle to. But Percy's list abruptly moves into selected pieces from Blake Neely's score for the Arrow series, which is nice if also obvious and unsurprising.
DC Universe: Batman #1
When you think of Batman, perhaps the Mountain Goats, David Bowie, and Anne Shelton aren't what you'd immediately think of. But that's what Tom King, David Finch, and Matt Benning selected along with some mandatory choices from Hans Zimmer and the John Wick soundtrack.
The playlist also considers newcomer vigilantes Gotham and Gotham Girl, whom Batman wrangles with in Tom King's current run. Los Compesinos!'s "You! Me! Dancing!" is an energetic tune that reeks of youthful energy. There's also some Lamb of God in case you didn't think Batman couldn't go hard.
Wonder Woman 75
Greg Rucka's separate Wonder Woman playlist is neat, but Regina Spektor curated a whole other playlist to celebrate the Amazon Princess's 75-year history, and it's as invigorating as Rosie the Riveter. Featuring a murderer's row of vocalists like Ella Fitzgerald, Patti Smith, Madonna, Cyndi Lauper, and Pat Benatar, Spektor's playlist evokes a fantastical view of history as Wonder Woman does.
DC Universe: Batgirl #1
Hope Larson is continuing Batgirl's crusade in Burnside, Gotham's version of Brooklyn. Her playlist, curated with artist Rafael Albuquerque, starts with Blake Babies's poppy cover of "Take Your Head Off My Shoulders," a hum-worthy tune Batgirl probably listens to herself. From Superchunk's "1000 Pounds" to Foo Fighters's "All My Life," DC's Batgirl #1 is full of spunk and great music to kick Gotham scum ass to. (It also gets bonus points from me for having Reel Big Fish's cover of A-Ha's "Take On Me." Sorry, I'm a ska dude.)
DC Universe: The Flash #1
Joshua Williamson and Carmine Di Giandomenico sort of cheat with a large selection of Blake Neely's score from The Flash, but it also kind of works with the book's arc surrounding the mystery of the new speedster Godspeed (who was revealed in The Flash #6). The playlist keeps winning with pieces from Daft Punk's amazing Tron: Legacy soundtrack, Le Matos's Turbo Kid, and Murray Gold's Doctor Who, giving The Flash a uniquely techno ambiance. Instead of fast pop-punk — what I would have done and what would be really predictable — The Flash instead evokes '70s and '80s sci-fi at its best.
DC Universe: Rebirth
Perhaps the most "cinematic" of all the playlists, DC's curated Rebirth playlist from Geoff Johns is, if nothing else, a fascinating collection of disparate pieces working together. Beginning with Charli XCX's "Vroom Vroom," the energy stays up with Panic! at the Disco's "Crazy=Genius," Muse's "Psycho," and Royal Blood's "You Can Be So Cruel." You can really imagine Wally West popping in and out of the Speed Force to different parts of the DCU.
Then, after a surprising amount of Ella Fitzgerald and Billie Holliday — perhaps meant to evoke the Watchmen? — Johns's playlist features Hans Zimmer/Junkie XL's "This Is My World" from Batman v Superman and Steven Price's "Gravity" from, where else, the film Gravity, which add serious thematic weight that anchors the playlist with the rest of the wide open DC Universe.
DC Universe: Titans #1
It has Queen's "Flash." I don't care what else it has. This is the best playlist ever.
DC Universe: Supergirl #1
Because Sasha Banks.