Junkie XL's New Batman Theme From 'Batman v Superman' Is Already Out
Does the track live up to the likes of Hans Zimmer and Danny Elfman?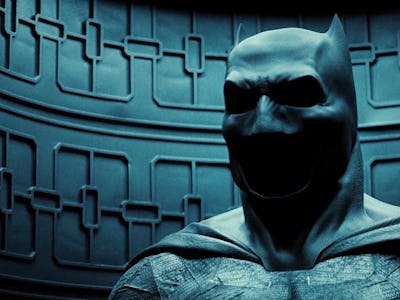 Warner Bros.
Let's face it, you're exhausted of Hans Zimmer, too. After composing three full scores for Christopher Nolan's The Dark Knight Trilogy, Zimmer stayed on the DC superhero train through Man of Steel, which, of course, cemented him as the go-to guy for Batman v Superman: Dawn of Justice, which hits theaters March 25. This time around, Zimmer will share his duties with Dutch musician Junkie XL, who composed the music for last year's Mad Max: Fury Road, and will next be featured in Fox's Deadpool. It is not hard to imagine that Zimmer, himself, might be tired of the brooding acoustics synonymous with Batman.
The track below — "Men Are Still Good (The Batman Suite)" — comes from the Batman v Superman soundtrack and serves as the primary theme of Ben Affleck's Dark Knight. It's percussion and thump-heavy, indicating the new brutal psyche of the world-weary detective re-envisioned for the new Justice League Cinematic Universe.
Disappointingly, the new theme feels shapeless compared to not just other Batman themes, but Hans Zimmer's other work. It's like Zimmer smushed The Dark Knight and Inception soundtracks into one audio sandwich. And like sandwiches, it's perfectly fine, but maybe a meaty steak would have been better.
For funsies, let's take a quick look back at the history of Batman's music. Here's the primary Bat-track from Zimmer's previous Dark Knight Trilogy. "Molossus" from Batman Begins was the skeleton of Batman's theme in that movie that continued all the way through The Dark Knight Rises.
Next is the symphonic suite from Joel Schumacher's reviled Batman & Robin, from Elliot Goldenthal. He also composed the music for the previous film, Batman Forever.
A handful of composers took on the Emmy-winning Batman: The Animated Series, which aired in between the Schumacher-era films and the Tim Burton movies. Danny Elfman, who composed for Burton, also composed the theme for the series that remains a classic over 20 years later.
And of course, there's Elfman's score from Tim Burton's 1989 Batman.
But the absolute best Batman theme? Neal Hefti, who made the theme to the 1966 series starring Adam West. Oh yes.