VR Photo Shows Obama Is the Internet's Favorite Dad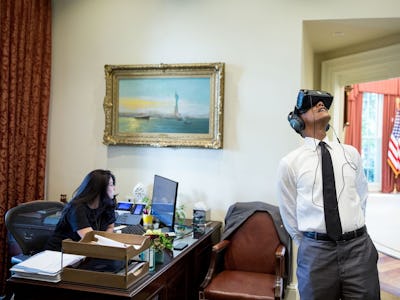 Mark Zuckerberg / Pete Souza
Barack Obama is many things: a known technophile, a civil rights attorney, and the President of the United States. He's also demonstrated several times over the last month that he is, without a shred of doubt, the internet's favorite dad.
That streak continues with a new photo showing Obama wearing a virtual reality headset in the White House. The photo, which was posted to Instagram by chief official White House photographer Pete Souza, purportedly shows the president watching a VR film that was taken during a recent trip to Yosemite National Park.
Obama could very well be virtually touring a national park in the photo. Google recently made it possible for anyone with a Google Cardboard headset to do so; the president is likely to have access to similar apps.
We also know that Obama was amazed the first time he used a virtual reality headset, so it's not hard to imagine him wanting to pop into the virtual world in between, you know, running the country.
That doesn't make this any less strange. At least it's in keeping with Obama's recent behavior — the president also released Spotify playlists on August 14 which definitively proved that he's a dad.
Obama isn't alone. Facebook chief executive and known dad Mark Zuckerberg reposted Souza's photo to invite the president to play "some zero-gravity ping pong together" next time.
Meet the leaders of the free world and the most popular social network, everyone.