Obama's Spotify Playlist Proves the President Is Also a Dad
The White House x Spotify. Calmly jam out with the President's favorite songs.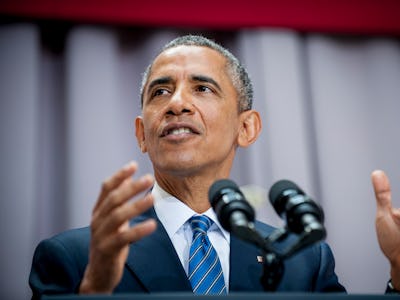 Pool, Getty Images 
In an effort to leave no social media platform unturned, Barack Obama put out his own official Spotify playlists.
The playlists split between "Summer Playlist: Day" for when you're stuck in traffic, but want to feel like the Secret Service is offering their protection. The playlist includes Coldplay, Stevie Wonder, John Legend, and Justin Timberlake. Solid dad choices.
The other playlist is "Summer Playlist: Night", which is for when the stress of the work week isn't enough, but one also wants to imagine the stress of being the leader of the free world. This selection includes Otis Redding, John Coltrane, Miles Davis, and The Lumineers — in case Barack didn't want to appear too black dad circa 1978.