Even North Korea Is Getting in on the Internet of Things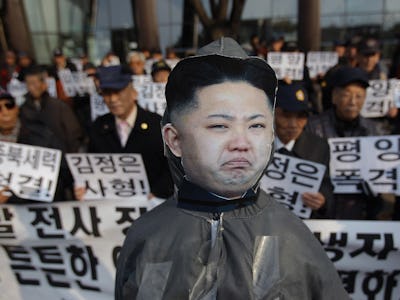 Getty Images / Chung Sung-Jun
North Korea is the next stop on the Internet of Things tour of world domination.
State television has revealed that the country made a product, the Star Group device, which allows workers to remotely operate machinery in factories with a custom-built seven-inch tablet that runs on its own software.
The Star Group device is said to run a modified version of the Windows CE operating system used in simple devices like ATMs or satellite navigations tools. North Korea calls this software the "Human Machine Interface" and says that both the HMI and the hardware on which it runs were developed within its borders.
Even compared to other Internet of Things products — many of which are bad — the Star Group device is rather basic. Yet it's still viewed as a step forward in a country without a lot of advanced tech.
North Korea wants to change that perception. Besides the Internet of Things, it also copied Netflix with a propaganda-on-demand service called Manbang (you read that right) that debuted in the country earlier this month.
These basic technologies might help North Korea convince people of its technical prowess. Even though Internet of Things devices rarely work as well as intended the country still proclaims this as a game-changer.
North Korea's workers just have to hope working with the Star Group device doesn't require taking methylaminorex — a cross between MDMA and methamphetamine — so they can remotely control machinery all day.