IFTTT CEO Sees IoT as a Really Bad Kitchen Where Nothing Works
Maybe technology is actually quite rude.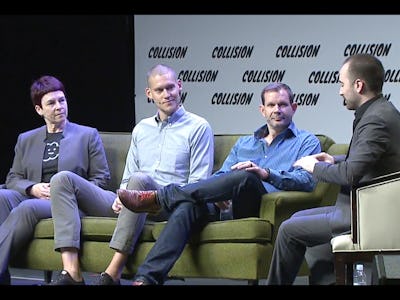 Collision
Imagine a kitchen where all of the tools, the knives, the chopping board, the stove, were all incompatible. It's nonsense, right? But Linden Tibbets, the co-founder and CEO of IFTTT, sees this as exactly the way automated services work today, where the "kitchen tools" have to cut a business deal with each other just to work together. This, Tibbets explained, is exactly what IFTTT is trying to solve.
At a panel discussion at the Collision conference on Wednesday, Tibbets, whose company automates the workings of services and devices through user-made "recipes," joined Andra Keay, managing director of Silicon Valley Robotics, and Jim Hunter, the chief scientist at Greenwave Systems, as they gave their thoughts on where they see the future of automation.
The panel also discussed the problem of what it saw as "rude" tech. "Technology is rude because it has lack of information and lack of understanding of the culture it submits itself to," Hunter said. Automated services don't have any manners, according to Hunter, as they ignore social cues that a service run by a human would pick up on.
Keay agreed, and suggested that the best place for these "rude technologies" would be agriculture. There, it will be simpler to work out best practices for an automated lifestyle, while improving farming practices. "Cows are the queens of the quantified self movement," she said.
And the rudeness of IoT devices may become an even larger problem when we're expecting more of them to speak with each other, the panel agreed. Imagine Tibbets' current-day kitchen metaphor but exacerbated by the introduction of troves of new services that keep expanding in different dialectic directions.
The question is what role manufacturers will play in planning to prevent a future of automated devices with communications problems. The panel discussed how platforms like the iPhone didn't map out how stuff like location services would work on the smartphone, instead leaving it up to apps like Instagram to work out how mobile apps could best use the tech. These developments helped make smartphones more accessible, in a series of events that could also play out in home automation.
"It's not about Internet of Things, it's about internet of you," Tibbets said.