The Internet Has Made 100,000 'Stranger Things' Title Spoofs
Y'all really love that font, don't you?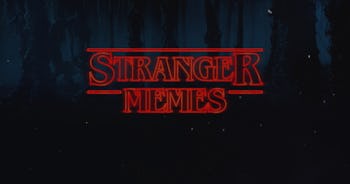 Nelson Cash
On Wednesday, the internet got its collective hands on a free, easy-to-use tool that renders text like the main titles for Stranger Things – and boy, did the web go nuts: The website Make it Stranger saw almost 100,000 individual submissions, including memes, references to the show, and even a wedding announcement.
"We've received over 94 thousand unique submissions, ranging from hilarious to outright ridiculous," Uri Ratner, a designer at Nelson Cash, the firm behind Make it Stranger, tells Inverse.
Netflix's hit drama from Matt and Ross Duffer is a phenomenal show in its own right, but part of it's charm is the utterly perfect title sequence. The titles use a stylized version of the Benguiat font, which showed up on book covers throughout the golden '80s, and the internet couldn't wait to put their own phrases through the Stranger Things title generator.
Ratner said the whole team was still riding high off of the website's crazy success.
"It's been amazing. We're excited to see not just the design community, but people from all walks of life, nerd out over typography," Ratner says. "It goes to show that you can get people interested in your passions simply by giving them context. Hundreds of thousands of people are now actively participating in the design process because it has been made relevant to their lives and accessible through technology."
A design firm named Imaginary Forces created the Stranger Things title sequence. Ratner called the Imaginary Forces team "geniuses," after their work on both the Stranger Things titles and the intro to Vinyl, which also incorporated a tricky font (Avant Garde) that "really stands out" when it's used correctly. Ratner said the response to the site has been "unreal," and while it's not affecting the firm's other projects, he said the team was working on "spawning ideas for other web experiences to build for television and film."
Of course, because this is the internet, people will eventually ruin every good thing, but Ratner said the team wasn't particularly concerned. So far, Ratner said most of the generated titles have been funny or silly – and not mean-spirited or racist.
"We want people to have creative freedom to use the generator, but of course want them to do so respectfully," Ratner said. "The shared logos people have been creating have resulted in a lot of laughs around our studio."
For now, Make it Stranger is Nelson Cash's only title generator, but Ratner said he would love to make title generators for Game of Thrones, Mr. Robot, Saturday Night Live, and Star Wars, so don't give up your typographical dreams.