Possible Trekkie Tim Kaine Scopes Butter Starship Enterprise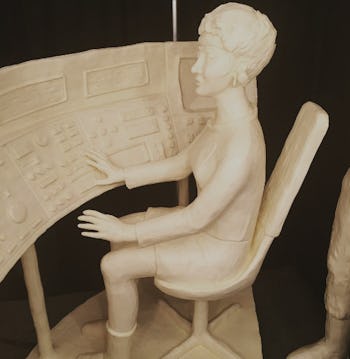 Iowa State Fair Instagram
One possible future Vice President of the United States might also be pursuing a career in Star Fleet – and butter.
At the Iowa State Fair, Hillary Clinton's running mate, Tim Kaine checked out an array of impressive Star Trek-themed butter sculptures. Captain Kirk, Mr. Spock. Dr. McCoy, Lt. Uhura, and the Starship Enterprise were equally represented in buttery glory alongside a large butter sculpture of a cow – which, to date, has not been featured in any incarnation of Star Trek. According to Politico, Senator Kaine made references to the famous Star Trek opening monologue by saying the campaign trail "has been a journey." It's not clear if Kaine is a die-hard Trekkie or not, but our incumbent President, Barack Obama certainly is, and has stated his love for Star Trek on numerous occasions.
However, the Trekkie devotion of the creator of the butter sculptures cannot be called into question. Sarah Pratt began work for the Iowa State Fair with the cow sculpture and then moved on to crafting the butter-versions of the Enterprise and its crew. Pratt crafted the Star Trek butter sculptures to honor the 50th anniversary of the the show, and likely the fact that Captain Kirk is from Iowa.
So far, a butter Starship Enterprise is the most creative celebration of Star Trek 2016 has seen. It's unclear if Donald Trump would respond by commissioning a Klingon Bird-of-Prey sculpture out of Cheetos, but your never know.
The Star Trek butter sculptures debuted at the Iowa State Fair last week and are on display now.