President Obama's Sci-Fi Reading List Might Be Historically Unprecedented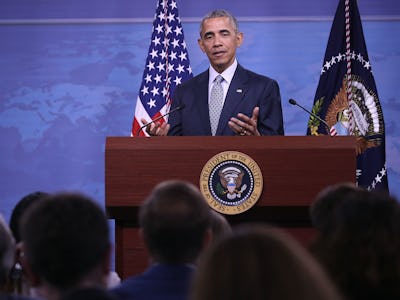 Getty 
President Obama has released his summer reading list to the public. Among expected titles like the brainy bestseller H is For Hawk by Helen Macdonald and Oprah's Book Club selection The Underground Railroad by Colson Whithead, one choice is the odd book out: Seveneves by Neal Stephenson, which centers around the human race struggling after an apocalyptic disaster triggered by the moon exploding. The novel's plot is unabashedly hard science fiction, featuring a 5000-year leap into the future in a similar vein as Justin Cronin's work.
Obama is not the first POTUS to release a reading list — George W. Bush was apparently a prolific reader — but his list hardly contained selections by Robert J. Sawyer or John Scalzi. It included the expected "presidential" titles like Genghis Khan and the Making of the Modern World by Jack Weatherford and Mayflower by Nathaniel Philbrick.
Bill Clinton professed a more poetic taste during his time in office, with Maya Angelou and T.S. Eliot occupying top spots on his book list, joined by Meditations by Marcus Aurelius and One Hundred Years of Solitude by Gabriel Garcia Marquez.
But Marquez's work, while brimming with magical realism, can hardly be considered "science fiction." President Obama stands alone in his appreciation for sci-fi as well as smooth summer music, and while the latter can be taken with a smile, don't discount his appreciation for sci-fi. It might just be the most presidential genre. After all, in a tradition extending back to Plato, the wisest leaders conduct thought-experiments in a variety of different worlds in order to understand how to run our own.