Top 5 Sex Jams from Obama's Summer 2016 Playlist
Procreation is patriotic, baby.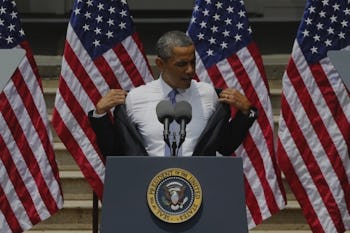 President Obama published a summer playlist for all of us this morning via Spotify, claiming though his Twitter account that he'd been waiting for a while to "drop it." We'll tell you one thing though, based on the "Nighttime" section of the playlist, Obama has not been waiting to get busy this summer.
It was subtle, at first. Millions of patriotic listeners tuned in at their desks, silently thanking the Hippest Commander In Chief In History for delivering such audible fire. However, something was very specific about the tone of Obama's playlist – first, a few critics noticed, and then listeners by the hundreds took off their headphones and looked around their now-steamy offices. Wait a second, Ledisi? Anthony Hamilton's "Do You Feel Me?" Did…did Obama just send the entire nation his sex playlist? Are…are we supposed to fuck to this?
I mean, hey, he's the President, so let's all take the rest of the day off and crank up the air conditioner. Maybe today's a good day to actually try that thing with an ice cube, because it's insanely goddamn hot out, and President Obama apparently wants the nation to get baby-making. Here are the best of POTUS's tunes for shutting the bedroom door on the rest of the party and telling everybody to go home.
Esperanza Spalding, "Espera"
You really have to hand it to DJ POTUS. He doesn't start his sexy "night time" playlist with in-the-middle-of-it tracks; instead, he floats in "Espera", the song that plays when you reach the end of a bottle of wine, and you and your date are making eyes at each other, like, "are we going to go down to the bodega and get more wine, or are we going to be cool with this amount, because there are other options for activities…" This isn't "sex" music so much as "both of you laughing a little much at nothing because you haven't closed the space between you" music. Masterful play, Barack.
Anthony Hamilton, "Do You Feel Me?"
If there exists a list of necessary criteria for a sex soundtrack, "Do You Feel Me?" probably hits all of them (from the back). Even the official video begins with a clip of Denzel Washington from American Gangster, and all the lyrics are about looking for confirmation from a woman. Anthony Hamilton is pretty sure his lady wants to go in the Olive Garden bathroom and leave their friends picking at breadsticks for an hour, but he's not 100 percent sure. You can hear his sexual frustration; it's very smooth.
Lizz Wright, "Lean In"
Let's say you're already halfway undressed and this particular song from Obama comes on your Bluetooth speaker, the one wedged into your bookshelf between copies of Tropic of Cancer. Woah, Latin strings being plucked? Where are we, baby, Panama? What's happening? When did you grow a mustache?
Chrisette Michele, "If I Had My Way"
The lyrics on this track are almost excruciatingly literal, so maybe save this one for mid-way through the playlist, when neither of you is paying attention to finite sounds or environmental factors anymore. The last thing you want to hear when you're kissing someone's stomach is a woman literally singing "we are going to make love and we're not going to stop, ever." I mean, yeah, that's the plan, but you don't just say that, Chrisette.
Wale Ft. Sam Dew, "LoveHate Thing"
"Wale?" you say. "Wait a minute, isn't this track from Obama's daytime playlist? There's no way I'm playing this while I seduce someone!" Stay with me and the President here, we will not lead you astray. First of all, Wale is known among female rap fans as being the most sex positive, woman-worshipping man in the game. He basically believes women are individual tropical flowers, the kind you need to water with a soft spray bottle. This ain't your married-date-night, how-long-did-we-pay-the-babysitter-for kind of sex jam. "LoveHate Thing" is perfecting the slow-kiss music. That Barry Obama, man. He knows what he's doing.