The POTUS Summer '16 Playlist Is Straight Fire
Farewell to the coolest president ever.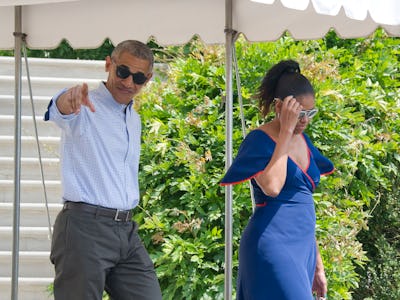 Getty Images / Pool
We're ready to call it now — Barack Obama's lame-duck presidency is lit as fuck. The POTUS released his Summer '16 playlist on Twitter today, and we are all about it. As befits the leader of the free world, Obama's list has tracks from pretty much every major genre and some serious sleeper hits.
Obama already has a reputation for being one of the coolest presidents in history. He's an avid basketball player, hilarious viral video creator, and admitted to being a weed smoker back in his college days. President Obama is like everybody's favorite uncle at the family bbq. Yeah, you know he's done some stuff in his life and isn't the most perfect man (drones, the NSA, etc.), but he always has a funny story to tell and blesses you with a $20 bill because he knows you're broke.
Without further ado, here's the big man's list:
President Obama's list of songs is so diverse and nuanced that you have to simply applaud his musical tastes. He covers a wide range of genres, including rap/hip-hop, R&B, folk, and pop music. He doesn't simply list songs that are chart topping singles or the most played songs on of people's albums. As one would expect from a 55 year old man, he has some music from some classic artists, like Billie Holliday and Prince. Aretha Franklin, Anthony Hamilton, and Janet Jackson all remind me of Sunday mornings, filled with the smell of bacon and cleaning supplies.
At the same time, Obama just seems so old school that whenever he shows knowledge of newer music, it always feels like a pleasant surprise. Courtney Barnett and Leon Bridges, Mr. President? His hip-hop songs are also one of the best parts of the list and just brings us back to that cool uncle vibe. I can imagine him sitting at the table, playing spades, saying, "Hey nephew. You heard this new Chance the Rapper?" or "What do you know about this Mary J. Blige and Method Man? These are the classics, nephew."
Obama has a long list of cool moments, like when he slow-jammed the news with Jimmy Fallon or sang Al Green during one of his speeches, but there was still some doubt on whether or not he should take the coolest president award. John F. Kennedy won the presidency partially based off the fact that he was ten times cooler than Richard Nixon. And who can forget when Bill Clinton played the saxophone on The Arsenio Hall Show? But after this playlist, there's no question about it. Barack Obama is the coolest president we've ever had. Even his Vice President, Joe Biden, can hang — you know that dude knows how to party.
It will be sad seeing President Obama depart this year. Looking at our next two presidential candidates, it's safe to say that the White House may not be this cool for a long time.