Chris Miller Has an Ice-Cold Burn for Xfinity
It's "more meta than the movie itself."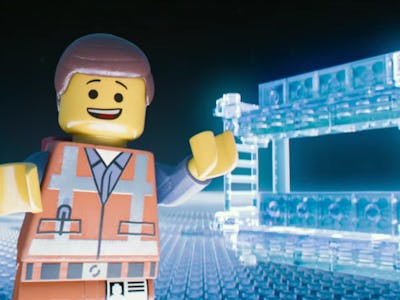 A new Comcast Xfinity commercial features a sentimental, soft, piano version of "EVERYTHING IS AWESOME!!!," the song featured prominently in the brilliant, wonderful, The Lego Movie.
That the song — cleverly used as both the anthem for a tidy Lego world that suppresses individuality, and a biting, sardonic take on its oppression — is used in a commercial for a massive telecommunications company wasn't lost on the film's co-director, Chris Miller.
'Everything Is Awesome' used in an Xfinity ad to sell a corporate idealization of consumer culture is more meta than the movie itself, love it," Miller posted on his Twitter account Wednesday.
The commercial hit Xfinity's YouTube account on August 6 and shows all sorts of people — teens, families on couches, bros in bars, people riding buses — enjoying Comcast streaming content in unison, together (but alone). You get it the idea. The Xfinity version modifies the lyrics, too: Instead of "Everything is awesome, everything's cool when you're part of team," we hear, " "Everything is awesome, everything's cool when you're watching a screen."
Watch:
Commented one YouTube user: "'Everything is awesome….everything is cool when you're watching the screen…' Pardon me while I vomit. "
"The idiots who made this commercial have clearly never seen the movie from where this song came from," comments another. While it's a song Lord Business would love, it's the opposite of the message in the movie.
Here's the original Academy Award-nominated song, which was written by the Lonely Island and performed by Tegan and Sara.
Here's Miller's original tweet:
We can only hope Chris McKay of Robot Chicken brings the same style to the upcoming Lego Batman Movie that Miller and his co-director Phil Lord brought to The Lego Movie.
Meanwhile, Tegan and Sara have moved on with a special new album and the Lonely Island proved they can do more than exclaim they're on a boat.