Tegan and Sara's New Album 'Love You to Death" Will Be Special
The follow-up to 2013's 'Heartthrob,' which reinvented their career, promises to keep the momentum going forward.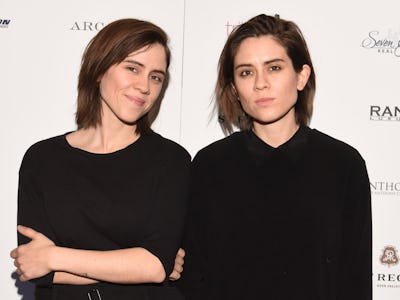 Getty Images/Vivien Killilea
Tegan and Sara Quin, the identical twin sisters better known as Tegan and Sara, have always gone straight for the heart strings. They've released seven studio albums and are working on their eighth Love You To Death, which comes out this summer on June 6. So far we've heard two singles from the upcoming release, infectious synth-pop anthems that instantly seduce through danceable rhythms and genuine emotion. The two songs signal Tegan and Sara's continuation down the radio-friendly pop path they began blazing on their critically acclaimed last album, 2013's Heartthrob. While this new approach sacrifices a bit of the intimacy that roused their dedicated fan base in the beginning of their career, the irresistibility of the brighter pop carves out a relevant and deserved space for the duo.
Tegan and Sara released their official debut This Business of Art in 2000 on Vapor Records, the label founded by Neil Young and his manager Elliott Roberts, which contained some tracks from their previously self-released Under Feet Like Ours, in addition to some new ones. The songs on these initial releases are sparse but powerful, driven by Tegan's and Sara's over-annunciated vocals, simple acoustic guitar riffs, and overall angst. As gay identical twins, Tegan and Sara were encouraged to wear their queerness on their sleeves to inspire their young audiences, and that's exactly what they did.
Their next two albums, 2002's If It Was You and 2004's So Jealous solidified their presence as prominent gay female voices in the indie rock community. While the identical gay twin appeal has an inherent intrigue, Tegan and Sara didn't rely on their queerness to reach their audiences. They were insightful and talented musicians whose music was made that much more honest by their openness about their sexual preferences. Their acoustic pop-leaning songs validated young peoples' feelings of heartbreak or anxiety that their parents told them they were too young to feel. Tegan and Sara were, above all else, genuine, an appeal their fans—many of whom wanted validation from a queer presence—latched onto. They've been pegged as a "phase" band, the group every struggling gay middle schooler listened to in their darkest times, but they taught an empowering lesson to everyone—the strength that comes with learning to embrace your emotions, no matter how painful or unpleasant.
Tegan and Sara's next album The Con signaled a step toward the mainstream with an upgrade to major label Warner Bros and gentle pop gems like "Back In Your Head" or more experimental ones like "Are You Ten Years Ago." Songs stood out on this record, as opposed to their previous albums that benefited from a listen all the way through. Tegan and Sara's next album Sainthood from 2009 was unpopular and felt unfamiliar, like the sisters had lost their touch. Aside from the instantly catchy "Alligator," the album flopped, and it took some time for the sisters to reinvent themselves into venerable pop stars for their 2013 comeback Heartthrob. If The Con and Sainthood were Tegan and Sara getting their foot in the door of pop stardom, Heartthrob was their way of busting through the door with a battering ram.
Heartthrob is a collection of crisp, sweeping pop jams that seduce on the first listen, the kind of listenable music that belongs on the radio. The album's opener "Closer" became their first top 20 single, which they performed alongside Taylor Swift on her Red tour, and the duo opened for Katy Perry on her Prismatic World Tour in 2014. The songs on Heartthrob didn't sacrifice any of the intimacy that made Tegan and Sara feel so close, it just bolstered that cornerstone with larger and more explosive pop soundscapes. They may have been enjoying mainstream success, but what's wrong with trying something new? Of course there are the Tegan and Sara fans who have resisted their escalation into pop stardom, saying that they've sold out or left their fans behind, but the reality is we've helped them get to this point and they owe it to themselves.
Tegan and Sara have released two songs from their upcoming album Love You to Death, which suggest that they are running full speed ahead with their reinvention from Heartthrob. "Boyfriend" has quintessential Tegan and Sara lyrics about the pain of being someone's second option, but it's propelled forward by explosive, glossy synths and soaring vocals. In "U-Turn" Tegan and Sara step down from their self-made pedestal as they learn from a lover to be more humble, a narrative that differs from "Boyfriend" but still seduces through effortless synth pop. These choruses are enormous and concise, yet complicated in the ease with which they seduce. They may have taken a sharp turn from the acoustic homespun proximity of their earlier catalogue, but their launch into pop stardom lets the emotion their fans love flourish in an exciting new space.