The Lonely Island And Jimmy Fallon Throw Back to "I'm On A Boat" with Classroom Instruments
Almost a decade later, The Lonely Island's hit is a classic.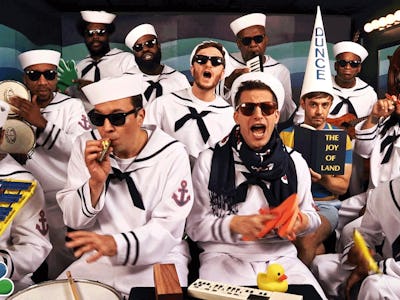 Jimmy Fallon on YouTube
Seven years after the release of the music video that arguably put The Lonely Island on the map, the band sat down with Jimmy Fallon and the Roots for a refreshing rendition of "I'm On A Boat". The trio, which includes Andy Samberg, Jorma Taccone, and Akiva Schaefer, have enjoyed a pretty busy year with the start of their new all-female variety show Party Over Here. Now, hitting the press tour for their upcoming film Popstar, Samberg sat down for an interview with Fallon before the group performed.
While Samberg belted out his part of the song, Schaeffer filled in for T-Pain — but it was Taccone who stole the show, with a Dunce cap, a triangle, and a very interesting book. The song itself has aged well, and the Roots always deliver musical composition far above the level of the pre-school instruments that they employ for this segment. Between this and the fact that Justin Timberlake's latest music video just released, it feels as though the last few glory days before the 2010s are trying to make a comeback — and maybe it's the late hour, but it's pretty enjoyable.
Filling out the rest of Jimmy's couch, 21 year old model Gigi Hadid made her Tonight Show debut, and Bryce Harper stopped by to play a catchphrase-focused game with the guests.
Samberg leads Popstar: Never Stop Stopping, the story of a pop star named Conner 4 Real, with his Lonely Island collaborators. Other signature names in comedy fill out the supporting cast, including Sarah Silverman, Bill Hader, and Maya Rudolph. A perfect picture of narcissism, Conner finds his empire crumbling and must come to terms with his past in order to collaborate with his old band. Whether they want him back or not is another story entirely.
Popstar hits theaters on June 3rd.