The Rio Olympics Are the Best Summer Movie of 2016
When all other summer blockbusters have failed, the best form of entertainment have been about the gold, silver, and bronze.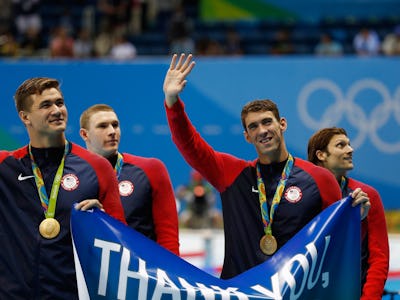 Getty Images / Clive Rose
The tentpole films released this summer have elicited critical apathy at best, and or intense negative scrutiny at worst. While time must pass to have a proper post mortem, 2016 looks to be a year far worse than the notoriously bad summer of 2009, when such egregiously bad blockbusters like X-Men Origins: Wolverine, Angels & Demons, Terminator Salvation, Transformers: Revenge of the Fallen, and G.I. Joe: The Rise of Cobra stunk up cineplexes across the country.
There have been some 2016 saviors, like Star Trek Beyond, Finding Dory, and to a lesser extent Ghostbusters, but the rest make up a murderer's row of substandard junk. Independence Day: Resurgence, X-Men: Apocalypse, The Legend of Tarzan, Warcraft, Alice Through the Looking Glass, and the one-two punch of nonsense that was DC's Batman v Superman: Dawn of Justice and Suicide Squad all failed to crack 50 percent on Rotten Tomatoes. The dive in quality has forced eager viewers to look elsewhere. If you're disappointed with 2016's blockbusters, just tune into the Rio Olympics.
The Olympics are, obviously, not your standard blockbuster movie fare. They aren't even movies, and the storied games that test the strength of athletes from across the globe don't form a cohesive narrative. Yet they're comprised of the human stories that blockbusters usually mask with their overblown special effects. A lot of the Olympic storylines this year — or any year of televised games for that matter — are telegraphed to be easily packaged into digestible feel-good clips, with the narrative already spelled out for you. This, in essence, is the most fundamental way that the games mirror the kinds of enormous crowd-pleasing stories seen in summer blockbuster tentpoles.
Beyond the spectacle aspect, which the opening ceremonies capture hands down, here are a few examples of why the Rio Olympics fulfill the promise of a good summer blockbuster.
Intense Drama
Movies are about the thrill of victory and the agony of defeat. The Olympics are too. Look no further than Shaunae Miller of the Bahamas who dove across the finish line to get the gold in the women's 400 meter. Or how about the moving sportsmanship of American runner Abbey D'Agostino, who helped fallen runner Nikki Hamblin of New Zealand after she fell during the women's 5,000-meter event. D'Agostino then realized she hurt her knee, causing Hamblin to come back to check on her. The still-hurt D'Agostino urged her on, but eventually limped to the finish where Hamblin was waiting for her. It's all captivating.
Superheroes
Marvel and DC superheroes have become a summer staple, but our real life superhumans are currently doing their thing in Rio. You can't deny that swimmer Michael Phelps's record 28 Olympic medals (23 of them gold) from five Olympic games are nothing short of mythic, which is appropriate because Phelps surpassed Leonidas of Rhodes's 2,168-year-old record of 12 individual Olympic golds. On top of that, real-life version of The Flash, Usain Bolt, is on his way to another 100m dash gold on top of his 15 other shiny Olympic and world championship golds. We also can't leave out American gymnast Simone Biles, who many are calling the best ever, after she captured all-around gold this year. These are superhuman feats that are 100 percent real.
Things Youve Never Seen Before
Some countries dominate, but it's the Olympic newbies are the ones that make it fascinating. Just look at Monica Puig's gold medal in tennis for Puerto Rico, Michelle Carters first ever American medal in women's shot put, Simone Manuel winning the first individual swimming medal in history for a black woman, or Team Fiji securing their country's first gold medal when they beat Great Britain in rugby. Movies become notable when they're groundbreaking, but it's an everyday occurrence at the games.
Political Intrigue
The state of the Rio games was called into question far in advance of their debut in August because of the country's economic, social, and political upheavals, garnering outlets like the New York Times to declare "The Olympic Games in Rio are an unnatural disaster." Like a disqualified sprinter, they may have jumped the gun. Thankfully the worst thing to happen so far is that the pool mysteriously turned green and swimmer Ryan Lochte may have been robbed. A later NYT report on the ground in Rio admitted, "Rio is the safest-feeling dangerous place you will ever visit," and "Nothing about walking the streets here feels even remotely menacing." It's the best disappointing political thriller ever, kind of like Jason Bourne.
Weird Supporting Characters
These synchronized swimmers:
Need we say more?
Villains
Every movie needs a proper bad guy, and luckily like a lot of American movies the bad guys in these Olympics are the Russians. It seems, unsurprisingly, Comrade Putin and his sports administration were pumping their athletes full of steroids to give the Russian Federation an illegal leg up in the games. The World Anti-Doping Agency recommended banning the entire team, and the International Olympic Committee brought the hammer (sans sickle) down, but not too much. Some athletes, like swimmer Yulia Efimova, got by on a technicality after admitting to doping. It didn't help, and gave the Olympic games the best good-beats-bad ending of the games so far: American swimmer Lilly King beat the Russian in the women's 100-meter breaststroke event and wagged a number one hand sign in her face.