Why 'Independence Day: Resurgence' Bombed
How it took director Roland Emmerich and producer Dean Devlin 20 years to make the sequel to their breakout hit.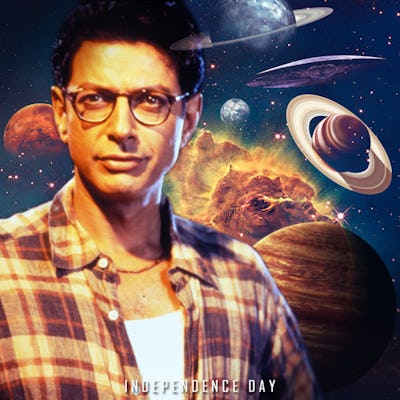 Facebook /IndependenceDayMovie
Ever since it became a major hit and put them on the A-list Hollywood map, filmmaker Roland Emmerich and producer Dean Devlin have discussed the possibility of a sequel to their 1996 alien invasion blockbuster Independence Day. While sequels are fairly easy to make these days — maybe too easy — the filmmakers always maintained that they would only move ahead with their follow-up if the idea was as good as the first one. And as it turned out, coming up with that good of an idea would take them nearly two decades.
Independence Day: Resurgence will finally make its way to theaters 20 years after the release of the original film. It returns some original cast members — including Jeff Goldblum, Bill Pullman, Brent Spiner, Judd Hirsch, and Vivica A. Fox — and introduces newbies that include Liam Hemsworth, Maika Monroe, and Jessie Usher. The film's existence is a small miracle. Its production history is fraught with stops, starts, rumors, and hearsay, which started in 2002.
What 9/11 Did to 'Independence Day'
By 2002, Emmerich and producer Dean Devlin had gone from the highs of Independence Day to the lows of 1998's Godzilla and the slightly-lesser-lows of 2000s The Patriot. They were two years from returning to destroying important landmarks with 2004's The Day After Tomorrow, but they began work on the sequel to the movie that jumpstarted their careers. "Roland and I, we're back to work on doing a sequel to Independence Day," Devlin said in an interview with SciFi.com. "I think we finally found a story that we wanted to tell."
The reason they went ahead was the public reaction following the very real destructive upheaval of 9/11. "The interesting parallel [between 9/11] and Independence Day was how the world came together in the aftermath," Devlin told IGN. "How people who had been arguing stopped arguing and started working together. I think our world did the same thing… so as we started talking about that, a story popped up and Roland and I got very excited."
Just two years later, during the press tour for The Day After Tomorrow, Emmerich explained that the movie stalled. To the filmmaker it seemed like they couldn't crack the post-9/11 sequel idea without making it seem like they're taking advantage of it. Dean [Devlin] and I met two or three times to figure out a way how to continue the story and we couldn't," Emmerich told SciFi.com. "Everything sounded like a repeat, and we don't want to do repeats."
A creative drought
Emmerich was on a bit of a plateau between the release of The Day After Tomorrow and his next film, 2008's 10,000 BC. But a year later Emmerich reassured fans that he couldn't shake the idea of an Independence Day sequel, so much so that he approached Fox to try and make a deal. It still didn't seem like it would happen, mostly because Will Smith was such a huge movie star. Emmerich told Latino Review:
"Dean Devlin and I are still set to make a sequel likely because we've found some sort of idea and we approached FOX and FOX has not quite figured out how to incorporate Dean's and my deal, and Will's deal. Will wants to do it in some sort of a package they can live with. So it's just been in negotiations now since forever, and naturally FOX says 'Why don't you do it without Will Smith?' I said Will is essential for us, for this movie and actually for the audience too. And, so, it's in limbo and lately the studios are fighting. Like gross players, and Will is a gross player and is probably the only gross player right now who's worth his gross. So we'll see what happens. I would love to do it."
Not one sequel, but two
But after making the apocalyptic movie 2012 and then the Shakespeare truther drama Anonymous in 2011, Emmerich seemed confident that their sequel idea had now ballooned into a now super-sized second and third alien invasion installment. "What we want to do in the next it's actually two movies – we want to do a bigger arc," he explained to MTV News. "Independence Day was always like the king who leads his troops into battle against an evil force, and that stays like that."
In 2016, Devlin explained the planned first movie would end with humans shooting an alien ship down, and then at the end of the movie they land on the White House lawn and say 'we come in peace' and that was it."
He even had a proposed new title for the follow-ups: ID4-Ever, but by mid-2011 Devlin and Emmerich were still struggling to put all the pieces together, including the added speedbump of star Will Smith reportedly asking for a $50 million payday to shoot both sequels back-to-back, which made Fox even more reluctant to greenlight the back-to-back sequels.
The White House and The Stonewall Inn
The project was still up in the air two years later when Emmerich released White House Down, while the plan was still to shoot the second and third installments back to back. By then the movie was closer to happening, and Emmerich was willing to reveal plot details, which pretty much describe what Resurgence ended up being about. He told EW, "The humans knew that one day the aliens would come back. And they know that the only way you can really travel in space is through wormholes," he told them. "So for the aliens, it could take two or three weeks, but for us that's 20 or 25 years. He even mentioned how the humans would appropriate the alien tech for their own defense: "[They] have harnessed all this alien technology. We don't know how to duplicate it because it's organically-grown technology, but we know how to take an antigravity device and put it in a human airplane."
My mid-year, Will Smith was still pondering whether to reprise his role, but both Jeff Goldblum and Bill Pullman signed on to fight aliens again for what was potentially one or two films.
Emmerich also made it a point to say that he'd do ID4-Ever next as a strategic move even though he'd go on to make the gay-rights movement drama Stonewall first: "You have to set a release date otherwise another film moves into it. [But] Independence Day [2] is my next movie, if I get the right script," he told Empire. "I should get the script pretty soon, then I'll try to get it into good shape for one or two months, and if that happens, we'll announce it and start production."
Losing Will Smith
That 2009 promise about Smith being essential to a sequel was for naught, as the star officially dropped out of the film after years of maybes. Once Smith said no, Fox said yes in November to Emmerich and greenlit the project as a single movie.
A resurgence
As 2015 rolled around, production on the sequel finally began in April in order to make a scheduled 20th anniversary release date the following year. Potential sequel subtitles like Independence Day Returns, Independence Day: Retaliation, Independence Day Rises, and Independence Day: Requiem were scrapped in favor of Independence Day: Resurgence, which Emmerich explained was meant to put the battle in the original, now called the War of '96, into context: "It's like a post-World generation that's unified, and that's amazing to see a world come together with a common enemy," he told The Hollywood Reporter. That's a resurgence."
After production wrapped in August, fans finally got a reason for why Smith's character wasn't around in the story of the new movie. An official War of 96 website was created, which explained:
"While test piloting the ESD's first alien hybrid fighter, an unknown malfunction causes the untimely death of Col. Hiller. Hiller's valor in the War of '96 made him a beloved global icon whose selfless assault against the alien mothership lead directly to the enemy's defeat. He is survived by his wife Jasmine and his son Dylan."
After 20 years in development, Independenc Day: Resurgence will finally hit theaters on June 24.