5 Things We Learned from the ID42 Prequel Book, 'Independence Day: Crucible'
Greg Keyes's novel fills in the 20-year-gap between 1996 and 'Independence Day: Resurgence.'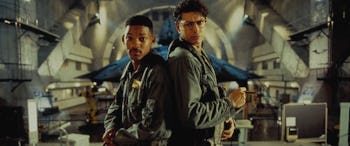 We're only a few days away from possibly the tardiest movie sequel of all time: Independence Day: Resurgence. To be sure, a lot has happened on this fictional version of Earth since the aliens showed up in the original 20 years ago. Obviously, a lot of those changes can't be covered in the new movie, so lucky for big ID4 super-fans, there's Greg Keyes's new tie-in prequel novel; Independence Day: Crucible. If you love these characters and you want to get super-pumped about the pre-lore movie, this book is a brisk read and totally fun. But if you can't read it in advance, here are the five big takeaways to bring you up to speed as you head into Independence Day: Resurgence.
5. President Whitmore's big speech didn't change the world
While everyone freaking loves the big stirring speech Bill Pullman's President Whitmore delivers in the original movie, this book postulates that it probably wouldn't do all that much to change global politics after the aliens are defeated. Case in point: in this version of the late 90's, Tibet is still not free and President Whitmore is kind of annoyed. Human beings may have been slightly more united against a common foe, but petty differences returned pretty fast after those saucers were taken out.
4. The Chinese government was given the moon
Even though everyone in the world is not getting along like they might in a Michael Jackson video, there are some practical divisions of labor in terms of various governments developing different kinds of technology. The Chinese government is getting pretty good with anti-grav technology, but the United States wants to integrate that tech into their fighter pilots. In order to make a deal, the U.S. basically tells China it can have the moon.
3. Will Smith's Fighter pilot hero Steve Hiller died in a space-fighter test drive
And the worst part is, Jeff Goldblum's David Levinson could have saved him! Big chunks of the book focus on the ways in which the world is trying to reverse-engineer the alien tech into their own vehicles and weapons, and one of the most important pieces of tech seems to be the need to create really cool fighter-jets that also have anti-grav ability. Think of this as a behind-the-scenes for why there are such vehicles in the new movie. Anyway, sometime in the year 2007 of this universe, Steve Hiller (that's Will Smith's character, remember) is killed during an expo which is supposed to show off new technology. Its inferred that a lot of bureaucratic red tape prevented David Levinson (Ian Malcolm) from making sure the space-fighter was okay to fly. Hence, Steve Hiller's death.
2. Jeff Goldblum's David Levinson is the only character who didn't go crazy
We already found out that Brent Spiner's (beloved?) character Dr. Okun from the original Independence Day survived the alien attack in the first movie and becomes a total crazy person in the new film. Similarly, President Whitmore is also depicted in this novel to be getting crazier and crazier the closer we get to present day. Patricia Whitmore (his daughter) seemingly has PTSD. But, the only person who really interacted with the aliens close-up - Jeff Goldblum's David Levinson – seems like he's fairly well-adjusted. The novel also does a pretty decent job of replicating Goldblums-ah…signature…well, dialogue. Will Goldblum be as awesome in Independence Day: Resurgence as he was in Jurassic Park: The Lost World? I guess that depends on how you feel about Jurassic Park: The Lost Word.
1. Liam Hemsworth's Character dumps his girlfriend for Patricia Whitmore**
Just in case you were worried Liam Hemsworth wouldn't be involved in a Hunger Games-style love triangle, he totally has a different girlfriend in this novel prequel than he does in the new movie. In the new movie, Liam Hemsworth is playing a character named Jake Morrison, a fighter pilot who is dating Patricia Whitmore. Who is Patrica Whitmore again, you might ask? Patricia Whitmore was a little girl in the original movie played by Mae Whitman, who was for some reason not asked to do this movie despite the fact that she's the perfect age.
Now, Patricia Whitmore is played by actress/kite-boarder Maika Monroe. The character is the daughter of President Whitmore (Lone Star from Spaceballs, try to keep up?) and President Whitmore's wife First Lady Marilyn Whitmore, who, was played by Mary McDonnell in the first movie and who we all know was a way better President on Battlestar Galactica than Bill Pullman (Lone Star) was in the original Independence Day.
Anyway. Mary McDonnell (also the mom in Donnie Darko) and Bill Pullman's daughter — Patricia Whitmore — meets Liam Hemsworth in this book and she thinks he's hot. But, he's totally got a different girlfriend who he dumps for her. Will you need to know this going into the new movie? Likely not. But if all these previews are a big smokescreen, and Independence Day: Resurgence is really all about Hemsworth's old girlfriend coming back to mess with him, you'll have heard it here first.