Hyperloop One Eyes Dubai Port for Next Cargo Transport Project
Dubai's busiest port is heading into the next century.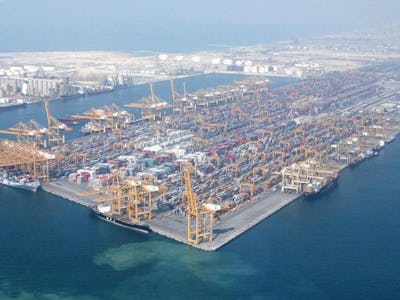 Los Angeles-based Hyperloop One announced that it has partnered with DP World — "a leader in international marine terminal operations" — to study how hyperloop technology can make Dubai's Jebel Ali port on the Persian Gulf in Dubai, already the busiest port in the Middle East and the world's largest man-made harbor, even more impressive.
"Hyperloop One is pleased to announce its expansion into the Gulf through the recent partnership with DP World," Hyperloop One's Shervin Pishevar said. "We firmly believe that this study is the first step toward the construction of the Hyperloop in Dubai, which could reshape one of the world's most modern cities and bring even more infrastructure innovation to the United Arab Emirates."
The news comes shortly after a legal back-and-forth between Hyperloop One co-founder Brogan BamBrogan and the company's leadership team started in July. BamBrogan alleged that Hyperloop One's chief legal officer left a noose on his chair and that the company is mismanaged.
Hyperloop One quickly responded with a $250 million lawsuit of its own against BamBrogan and his three co-filers. It doesn't seem at this point that the ridiculous lawsuits will threaten to derail the startup before it opens a single hyperloop network.
Meanwhile, Hyperloop One and DP World will see if hyperloop technologies could deliver freight from container ships to a depot. This could increase the volume the port can handle — thus making DP World more money — while also "minimizing any impact on urban Dubai and reducing freeway congestion and emissions." Assuming this study pans out, of course.
Hyperloop One is also studying the feasibility of its technologies in the Ports of Los Angeles and Long Beach; Russia; Switzerland; and Norway and Sweden. Some of those studies are similar to the Jebel Ali study, which is focused on moving cargo, while others are devoted to a hyperloop passenger network.