Rio's Got Super Bacteria, but Olympic Sailors Don't Care
"We're not going to have an epidemic of CRE related to the Olympics."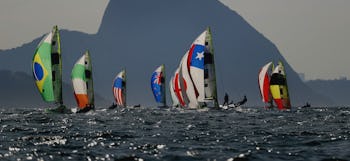 Getty Images / Clive Mason
Olympic sailors are waging a battle against rival teams, fickle wind, and the generally icky feeling of getting splashed with water known to contain "super bacteria." Yes, that means along with raw human sewage and green pools that smell like farts, the 2016 Rio de Janeiro Olympics are seemingly plagued by another aquatic conundrum.
Two studies, one unpublished and the other recently published in the journal Antimicrobial Agents and Chemotherapy, have confirmed the presence of the super bacteria carbapenem-resistant Enterobacteriaceae (CRE) in five of Rio's beaches and the Rodrigo de Freitas lagoon. This lagoon empties into the Guanabara Bay, where the Olympic sailing competitions take place.
CRE, for those not familiar with waterborne grossness, is a gnarly family of germs that's extremely difficult to treat because of its high levels of resistance to antibiotics. But according to the Centers for Disease Control, healthy people usually don't get CRE infections — the people most likely at first are patients who require ventilators, urinary catheters, or intravenous catheters. What sailors would need to worry about is if they get water infiltrated with CRE into any open wounds, which would put them at serious risk for urinary tract, blood, and wound infections.
The first study, while unpublished, has passed internal reviews by Rio's federal university and by scientists at the Interscience Conference on Antimicrobial Agents and Chemotherapy according to Reuters. While both studies used water samples from 2013 and 2014, their authors state that, as there have been no advances in Rio's sewage infrastructure, that the results still hold up.
According to Renata Picao, lead researcher of the unpublished study, the super bacteria entered the waterways through sewage that came from local hospitals. She told CNN that she didn't think the Olympics should change the venue — but she also doesn't take her kids to go swim in that water.
"We're not going to have an epidemic of CRE-related to the Olympics," infectious disease specialist Dr. William Schaffner, unaffiliated with the super bacteria Rio studies, told CNN. Schaffner says that if CRE in the water was easily causing infections, we would already be seeing CRE infections among Brazilians and that's not happening.
Some sailing teams in Rio have been taking certain precautions against CRE by immediately washing themselves and their boats with soap after being in the Guanabara Bay. And while the majority of these sailing teams have been practicing in Rio for the past couple years, many have begun to publicly complain about the emphasis on the quality of the water and not their sport. Even sailors who have gotten infections, like Germany's Erik Heil, have said that they don't feel the need to blame the quality of the water. Until CRE is proven to affect anyone in the waters of Rio, it's just speculation.
And even if CRE did pose a danger, some of the sailors don't care.
"At the end of the day, it's about winning a medal, not staying healthy," Canadian sailor Luke Ramsay told The New York Times.