Tas Pappas: Weed Tests Could Ruin Olympic Skateboarding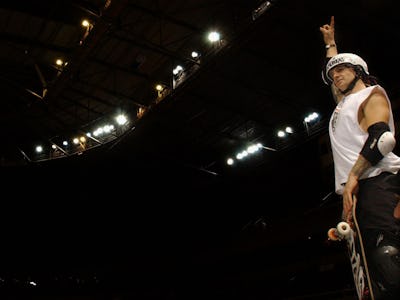 Getty Images / Nick Laham
Australian skateboarding icon Tas Pappas is worried that the sport might not be right for the Olympics. Skateboarding is one of five new sports set for inclusion in the 2020 Tokyo games, but drug testing may hinder pro boarders that smoke up before their big moment.
"I'm wondering how it's going to work as far as the drug testing is concerned, because some guys skate really well on weed and if they have to stop smoking for one competition [the Olympics] it might really affect their performance," he told the Australian Broadcasting Corporation (ABC) in an interview published Monday.
The disconnect between marijuana culture and the Olympics has also been an issue in snowboarding, where the first gold medal awarded in the 1998 winter games was taken away after Canadian Ross Rebagliati tested positive for THC. Rebagliati regained his medal on appeal, and still maintains that he only tested positive through secondhand smoke.
WADA in 2013 increased the threshold for testing positive from 15 nanograms per milliliter to 150 nanograms per milliliter, an amount that is aimed at catching athletes who smoke during the competition. Rebagliati failed by testing 17.8 nanograms per milliliter. Although the higher threshold will help avoid false positives through secondhand smoke, it may prove to be an issue if skateboarding competitors are smoking ahead of big performances.
Unlike the Olympics, the X Games (where skateboarders traditionally compete) do not drug test competitors. Both the World Anti-Doping Agency (WADA) and International Olympic Committee (IOC) have criticized the X Games' attitude towards drug testing. "This sends the wrong message to athletes at a fragile time for clean sport worldwide," WADA director general David Howman said in February.
But drug testing as a whole doesn't really have the best record. In June, John Oliver ran a special episode of Last Week Tonight where he explained the extent of doping in sports. The episode featured a comment from former WADA head Dick Pound, where he claimed that drug tests aren't working by design. That's because the incentive to crack down doesn't exist among competing nations, rendering anti-drug efforts less effective.