John Oliver Explains Doping Ahead of Rio 2016 in 'Last Week Tonight'
Athletes have given some terrible excuses over the years.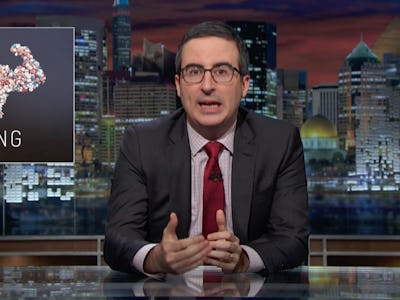 Last Week Tonight/YouTube
The Rio 2016 Olympics are just around the corner, and to celebrate, John Oliver produced a special episode on all the drugs that athletes take. On Last Week Tonight, broadcast Sunday, Oliver highlighted the prevalence of doping in professional sports, and pointed to evidence that drugs may actually be an accepted part of athletics.
Doping in sports is huge. A leaked survey revealed that 29 percent of athletes in 2011 world championships said they had done it. The practice is part of a long tradition of cheating in professional games: in the 1904 Olympics, one man attempted to jump ahead by getting a lift 11 miles in a car.
Oliver enumerated some of the more ridiculous reasons athletes have given for failing doping tests. Dennis Mitchell, a sprinter, was banned by the IAAF in 1998 after tests showed unusually high levels of testosterone. The high levels, Mitchell explained, were because he had sex at least four times a night and drank five bottles of beer.
But perhaps the most ridiculous reason was the one offered by cyclist Tyler Hamilton, who was asked why his results showed his blood contained the DNA of somebody else. Hamilton said that the blood was from a vanished twin, absorbed in the womb before birth.
Unfortunately, there many not be much of an effort to actually crack down on doping in sport. Dick Pound, the former head of the World Anti-Doping Agency (WADA), said that there's little incentive to crack down.
"You can do hundreds of thousands of tests and not test anything," Pound said. "People don't want it to work."