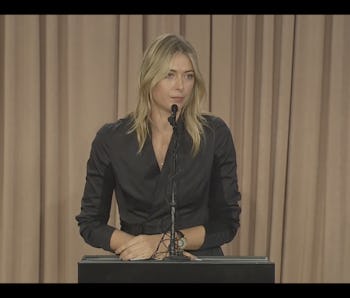 Mind and Body
What Is Meldonium, and Why Did It Cause Maria Sharapova to Fail a Drug Test?
The World-Anti Doping Agency is cracking down on even the most obscure substances.
Screenshot from YouTube
Update, June 8: The International Tennis Federation has suspended Sharapova for two years. She will appeal the ruling.
World tennis star Maria Sharapova, the winner of five Grand Slam singles titles, announced today that she has failed a drug test administered in January, testing positive for Mildronate, also known as Meldonium.
Apparently, Sharapova had actually been taking Meldonium since 2006, but the World Anti-Doping Agency only added the substance to the prohibited list just this year.
"I had been legally taking the medicine for the past ten years," she said. "But on January 1st, the rules had changed, and Meldonium became a prohibited substance — which I had not known."
Sharapova told reporters at a press conference today that she received an email from the World Anti-Doping Agency in December about the updated list for the tennis in the upcoming year, but it seems she wasn't aware Meldonium had been a new addition.
"I did fail the test, and I take full responsibility for it," she said, adding she was prescribed the drug as Mildronate by her family doctor and was not aware it was also called Meldonium.
It's unclear yet what Sharapova's penalty will be. She's the seventh athlete this year to test positive for the drug. You can watch a stream of her announcement here:
The news begs the question: What is Meldonium? And why did the WADA only recently decided to declare it banned?
Meldonium is what's called an anti-ischemic drug — meaning it's used to improve blood flow to the body's tissue. Clinically, it's used to treat disorders like angina and myocardial infarction — ailments caused by restricted blood flow. Meldonium basically works by intervening with the body's metabolism of certain fatty acids. Although it is legal to prescribe in Lithuania and Russia, the FDA has not approved its use in the United States.
Sharapova says she was taking Meldonium because of a deficiency of magnesium (which plays a role in blood pressure control), a family history of diabetes (for which there is some evidence to suggest it is helpful), and an irregular EKG.
The WADA banned Meldonium because it saw "evidence" that athletes were using it as a performance-enhancer, which begs the question, "what was that evidence?" The WADA began analyzing urine samples among athletes and found that, out of 8,320 random individuals, 182 tested positive for Meldonium.
That's only 2.2 percent of the sampling, but that's a way higher rate than what you would find in the general populace, suggesting there's probably a reason athletes would seek out Meldonium. The majority came from those participating in strength sports.
This makes sense when you think about it: an anti-ischemic drug would help in pumping blood faster to the body's muscles, giving them more oxygen to work with during active events and actions. There are a few studies that support these findings, although most of them are from Russia, and there's scant research elsewhere that has investigated the effects of the drug on athletic performance.
As the WADA cracks down on more and more performance-enhancing substances, athletes are turning to more and more inconspicuous drugs to help them get a leg up. Sharapova might be the most high-profile offender in recent times, but she's far from the only one.
"I made a huge mistake. I let my fan downs, and let this sport down," she said.
Her announcement will almost certainly cause a large uptick in interest about Melodium from researchers and athletes alike.
"I don't want to end my career this way, and I really I hope I am given another chance to play this game."