What Is Meldonium? The Drug That Got Maria Sharapova Suspended for Two Years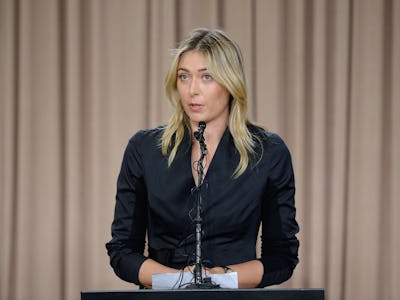 Getty Images / Kevork Djansezian
After months of waiting, the International Tennis Federation handed Maria Sharapova a two-year suspension for testing positive for the banned substance Meldonium.
After testing positive back in March, Sharapova admitted to using the drug since 2006 and said that her doctor had prescribed her use of the drug Mildronate — same drug, different name — for more than a decade to help with a familial predilection towards blood pressure issues and diabetes. The drug only came onto the list of banned substances in 2016.
Meldonium's intended use is to increase blood flow to the tissues and is in a class of drugs known as anti-ischemic drugs. The drug has not yet been approved by the FDA for use stateside but is legal to prescribe in Sharapova's home country Russia for conditions like angina and myocardial infarction. The World Anti-Doping Agency banned Meldonium because it saw "evidence" that athletes were using it as a performance-enhancer. The WADA began analyzing urine samples among athletes and found that, out of 8,320 random individuals, 82 tested positive for Meldonium.
Sharapova will appeal the decision:
"While the tribunal concluded correctly that I did not intentionally violate the anti-doping rules, I cannot accept an unfairly harsh two-year suspension," Sharapova posted on her Facebook page today. "I will immediately appeal the suspension portion of this ruling to CAS, the Court of Arbitration for Sport."
The positive test came from a sample given after Sharapova's quarterfinal victory at the 2016 Australian Open and the ITF says she'll have to forfeit results and rankings from that contest.
On a positive note, the ITF gave Sharapova some credit for time served. In its official press release concerning the ruling, the federation said, "Due to her prompt admission of her violation, that period of ineligibility should be back-dated to commence from 26 January 2016." Sharapova's suspension will end at midnight on the 25th of January, 2018.
Here's the full press conference she held in March: