CW's 'Freedom Fighters: The Ray' Has Our First Gay Superhero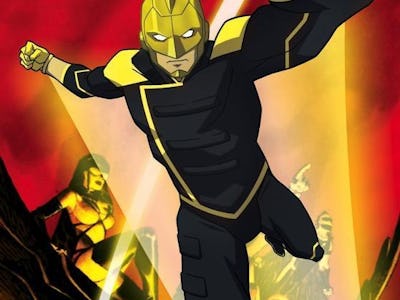 The CW
The CW announced during its TCA presentation that it's bringing a new show from Greg Berlanti and Marc Guggenheim, and making a little history along the way by bringing the first gay lead superhero to television. Coming in 2017, the animated series Freedom Fighters: The Ray will debut on the CW Seed network with the intention of later crossing the animated character over into a live-action role in the CW's DCTV-verse.
Freedom Fighters: The Ray will tell the story of Raymond "Ray" Terrill — a reporter who uncovered some seriously seedy stuff going down with a secret government science project. In an attempt to stop Terrill from reporting on what he's discovered (or, uh, doing anything ever again), the project lead exposes him to a "genetic light bomb," which, in true superhero fashion, doesn't kill him but gives him some illuminating powers. With his light-based abilities, Terrill was "recruited by Uncle Sam and the Freedom Fighters to fight violence and oppression wherever it exists."
Inclusivity and representation are vital elements of television and of popular culture as a whole. The first gay superhero leading a show in 2016 feels a little overdue, but is certainly a welcome change to the status quo. In a cultural landscape that's completely saturated with superhero stories, it's high time for one of the central heroes to represent the LGBTQ community.
Freedom Fighters: The Ray will probably present an opportunity for the character to become a part of the live-action universe, but for now, he's relegated to an animated show, which is an interesting choice. Animated shows often skew towards younger audiences, so seeing the first gay superhero lead in a show that many kids will be watching feels like a deeply significant move from The CW in terms of keeping up its progressive reputation.
To be fair, however, the CW hasn't been perfect on that front. The network has made several missteps in its shows, particularly when it comes to the Bury Your Gays trope. But the network has racked up a number of victories for LGBTQ as well. Arrow and Legends of Tomorrow's Sara Lance is a constant bisexual bright spot, The 100's second and part of its third season saw some meaningful development between Clarke and Lexa, and Supergirl's second season will add lesbian detective Maggie Sawyer to its roster.
We hope to see some more positive developments in representation from The CW as the fall season gets underway, but the announcement of Freedom Fighters: The Ray shows an understanding of the importance of inclusivity, and that's an encouraging step.