Fox Might Give Us a New Season of the X-Files
FOX says it's in 'significant talks' - mmm, sounds spicy.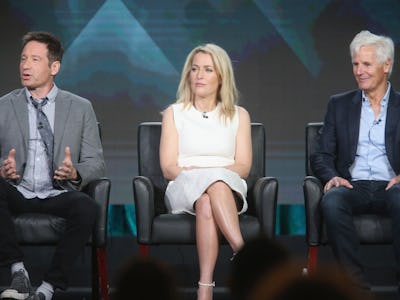 Getty Images / Frederick M. Brown
Fox's six revival episodes gave X-Files fans a collective orgasm of nostalgia, and the network might not be ready to stop just yet. Fox Entertainment president David Madden the network was actively working to bring Mulder and Scully back to the screen for another season.
"There are significant talks with all three principals," Madden said at TCA on Monday, referring to X-Files creator Chris Carter and stars David Duchovny and Gillian Anderson.
Sure, David, we all want that, and I'm sure you get a nice cut of the profits yourself, but what are the chances of it actually happening?
Fox TV Group chairman Dana Walden piped up, saying she wishes the company could have produced more episodes in the revival.
"We would have liked to do more in the first place, but there were limitations," Walden said. "Gillian lives in the U.K. David in New York and Los Angeles. The show shoots in Vancouver. So it's about coordinating a time when they can carve time to be in Vancouver."
The situation is already complicated, as Anderson currently has an ongoing commitment to the Starz adaptation of American Gods. And even though fans were overjoyed to get more of their favorite show, the first revival season got a lukewarm reception from diehard fans of the series' original run from 1993-2002. According to Walden, Fox would be thrilled to get between eight to ten new episodes locked given the scheduling complications, but future episodes would be able to jump straight into the action. The original revival had to re-establish and fill in a lot of the original show's mythology, which a second season wouldn't have to do.
"It was introduced to new viewers," Walden said of the 2016 X-Files season, "and (the writers) had the challenge of filling in the mythology. Going forward, there won't be the same obligation to reset the series."
All you can do now is start whispering sweet nothings to the Duchovny poster we know is taped to your ceiling and pray that Fox executives aren't putting money above the legend of Mulder and Scully. And now, we wait.