First 'Crisis in Six Scenes' Clip is Classic Woody Allen 
The auteur's Amazon series debuts on the streaming service in September.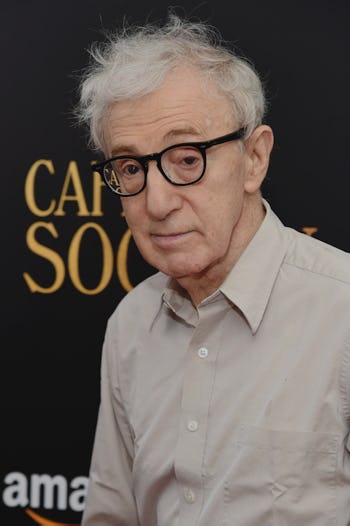 Getty Images / Jamie McCarthy
The last time Woody Allen didn't make a movie in a successive year, Ronald Reagan was president and Amazon was but a glint in a young Jeff Bezos's eye. An Allen film a year is a given these days, with their hit-or-miss quality just as much of a guarantee as there will be a new Allen movie the following year. But thankfully, the legendarily nebbish auteur has decided to switch things up a bit. This year saw the release of Allen's first movie with Amazon Studios, the 1930s-set comedy Cafe Society, which premiered at Cannes and will bow on the streaming service later this year. But he's also doing something with Amazon that he's never done before: A TV series, and now we have our first look.
The series has been in development for some time, with little to no details revealed about it besides Allen admitting that he has "regretted every second since I said OK," and creating the series has been "very, very difficult."
Check out the first clip below:
The 80 year-old is writing and directing every episode, which was planned as a single-season story. His reaction is not the most reassuring thing to hear about a new project, but then again this is Woody Allen we're talking about, and self-confidence has never been his strong suit.
The series, with the perfectly Bergman-esque title of Crisis in Six Scenes, takes place during the 1960s and is about a middle class family dealing with an unwanted guest. Allen will headline as a character named Sidney Muntzinger and the rest of the eclectic cast is rounded out by people like Miley Cyrus (who will undoubtedly play that unwanted guest), Elaine May, Rachel Brosnahan, John Magaro, Michael Rapaport, Margaret Ladd, David Harbour, Joy Behar, Christine Ebersole, Becky Ann Baker, Lewis Black and Rebecca Schull.
The change in format on Amazon could have been a great way for Allen to upend what has increasingly become his tired and cliched schtick, but the semi-confusing clip — which is introduced using Vietnam War protest footage and awkwardly transitions into an argument Allen's character is having at a barbershop — seems to indicate it will be more of the same. The emphasis on James Dean jokes really put the whole stale thing into context.
But mostly the show seems like it will be just an extended Woody Allen film cut up into six parts that have to be called episodes. Here's hoping he plays with the episodic style in more surprising ways.
Crisis In Six Scenes debuts exclusively on Amazon Prime on September 30.