Amazon Studios Won Cannes With Refn's 'Neon Demon,' Jarmusch's 'Paterson'
The streaming platform scored four films and a high profile among studios at the vaunted film fest.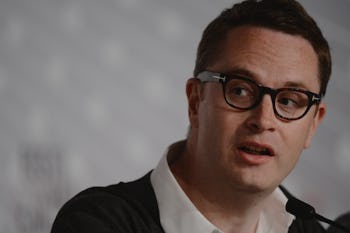 Ian Gavan / Getty
The official lineup for the Cannes Film Festival was announced early this morning, and it brings with it the usual levels of international cinema snootiness that the French film festival to end all French film festivals generates each year. You got your big premieres, like Steven Spielberg's The BFG. You got your indie darlings, like Xavier Dolan's It's Only the End of the World. You got your international auteur favorites with Pedro Almodóvar's Julieta. But something that the 69th edition of the Cannes Film Festival has that previous years didn't: four new movies by the upstart Amazon Studios.
The festival announced last month that director Woody Allen's latest, the period drama Cafe Society, would open the festival. Amazon bought the movie last year along with a deal to make a TV series for the streaming service. The film marked the first time an Amazon release has been given such a big, fancy stage.
Their earlier film releases, like Spike Lee's Chi-raq, were simply given limited theatrical distribution before bowing on Amazon Prime video.
Amazon also has Jim Jarmusch's Paterson, a particularly plotless drama starring Adam Driver (a.k.a. Kylo Ren) as a lowly bus driver named Paterson who lives in Paterson, New Jersey who writes poetry in his spare time and ekes out a living with his dreamer wife, Laura (Golshifteh Farahani). Jarmusch, the white-haired auteur, is pulling double duty this year with a non-Amazon film called Gimme Danger, a documentary about Iggy Pop.
Besides that, Amazon is also rolling out Danish director Nicolas Winding Refn's The Neon Demon, a quasi-horror movie about a model (played by Elle Fanning) who moves to LA and is terrorized by a group of women who, as the official synopsis says, "will take any means necessary to get what she has." The plot is vague enough just to keep us interested. Refn's no Cannes rookie; he won the Best Director Award in 2011 for his film Drive, and premiered his controversial 2013 movie Only God Forgives there in 2013.
Rounding out Amazon's Cannes footprint is South Korean director Park Chan-wook's The Handmaiden. The 1930s-set crime drama, based on author Sarah Waters's book Fingersmith, is about a wealthy heiress who falls in love with a small-time thief. Like Refn, Park is also a Cannes veteran. He's presented films at the festival in 2004 with Oldboy and in 2009 with Thirst.
Jarmusch, Park, and Refn's films are all in competition for the coveted Palme d'Or, the fest's top prize. So we'll have a little Amazon cinematic battle royale on our hands. Should this year's jury leader, Mad Max director George Miller, choose an Amazon movie it'll inevitably ruffle some feathers in the snooty film establishment.
As streaming platforms like Amazon and Netflix gain increasingly more clout in the film distribution game, they become an equally viable option for filmmakers to hock their cinematic wares.
The 69th Cannes Film Festival runs from May 11 to 22.