Nicolas Winding Refn's 'The Neon Demon': What We Know So Far
It's got to be better than 'Only God Forgives'.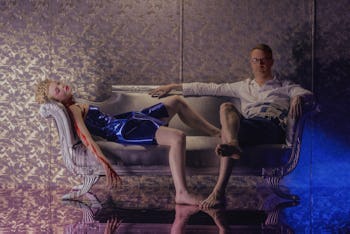 Nicolas Winding Refn has blazed a trail in Hollywood. His fascination with the neo-noir landscapes of urban America — and Ryan Gosling — created a series of brutal dramas that landed just left of the mainstream. Bronson, Drive, and Only God Forgives introduced the masses to his delicious visuals woven into troubled morality tales. His next feature The Neon Demon looks poised to reinvent the filmmaker, sending Refn into a previously-unexplored genre for his "horror film about vicious beauty." Here's the official synopsis:
"When aspiring model Jesse moves to Los Angeles, her youth and vitality are devoured by a group of beauty-obsessed women who will take any means necessary to get what she has."
In this case, "any means necessary" translates to a bloodbath. As explained by Refn's wife and long-time collaborator Liv Corfixen, the movie plucks inspiration from the life of Countess Elizabeth Báthory de Ecsed. In the 16th century, she earned herself a reputation as the most prolific murderess to have ever lived. She slaughtered countless scores of young virgins and bathed in their blood in order to capture their youthful glow. So, why update the lore for contemporary audiences?
"One morning I woke up and realized I was both surrounded and dominated by women," Refn says on his decision to write a female-driven genre film. "Strangely, a sudden urge was planted in me to make a horror film about vicious beauty. After making Drive and falling madly in love with the electricity of Los Angeles, I knew I had to return to tell the story of The Neon Demon."
In the film the character of Jesse is played by Elle Fanning, whom Refn calls "a powerhouse of talent" and "absolutely amazing." The 17-year-old is said to become enveloped by a clutch of vapid LA women who resort to voodoo and cannibalism as a way to harvest her beauty. The teen witches of The Craft channelled into the scenario at the heart of Alive is certainly a compelling concept. Mad Max: Fury Road's Abbey Lee commands the gang as a "cool ringleader of a maniacal group of models".
We don't know specifically who else has been assigned roles in that hideous clique. However, as the remainder of the ensemble includes former Refn player Christina Hendricks, who took charge as Mad Men's self-appointed matriarch, we'd hazard a guess and say: she's probably involved in the madness. The Hunger Games Jena Malone and Dark Shadows' Bella Heathcote round out the main female complement. Keanu Reeves, Alessandro Nivola — who plays a fashion guru — and Desmond Harrington landed the top three male roles.
Based on Refn's comment that he sees "many more adventures," there's a strong possibility that the director least likely to launch a franchise is about to launch a franchise. Albeit a rather grisly one, as he describes his travels beyond The Neon Demon as a place "where all I see is the wicked dying young." How much do you wanna bet Gosling's involved?