New Untitled Woody Allen Film Acquired By Amazon Studios
Set for release this summer, the film stars Kristen Stewart, Steve Carell, and Blake Lively.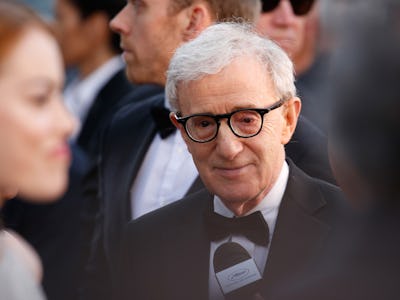 Getty Images
Woody Allen keeps making them, and movie studios keep distributing them. But instead of the normal channels for his most recent movie — which will inevitably feature a nebbish white male protagonist humorously but philosophically pondering his place in the world via a series of darkly comedic events in or around New York City — ol' Woody is striking up quite a friendship with Amazon Studios. The upstart media production arm of the internet retail giant is behind the controversial geriatric auteur's new TV series and now will also distribute his latest movie.
The untitled period romantic drama stars all the people who have yet to appear in a Woody Allen movie, but want to because it's good for their résumé. (And some who have already.) The cast includes Jeannie Berlin, Steve Carell, Jesse Eisenberg, Blake Lively, Parker Posey, Kristen Stewart, Corey Stoll, and Ken Stott. Amazon will open the film in theaters nationwide this summer before making it available exclusively on its Prime Video platform sometime soon thereafter.
Check out the trailer to Allen's previous film, Irrational Man, below:
Thank God Woody Allen never watches his own movies because he probably wouldn't be able to figure out how to make the dang-blasted old television set work to see it — you know these kids and their new-fangled technology.
Anyway, the pick-up of Allen's latest is a bit of a coup for Amazon Studios. His last seven movies, stretching back to 2009's Whatever Works, were distributed by Sony Picture Classics. Amazon's gain is their loss, and we suspect it effectively ends that working relationship.
"Like all beginning relationships, there is much hope, mutual affection, and genuine goodwill — the lawsuits come later," Allen said to TheWrap, possibly unaware of his own gross and shady legal trouble.
Amazon's auteur-focused courtship and rollout seems to be their template for original feature film content moving forward. They did a similar release last year with director Spike Lee's Chi-Raq, which was the studio's first original movie. Expect Allen's follow-up to be announced shortly because he can't stop cranking 'em out.