An Army of Pikachu Descends on Japan for the Pikachu Parade
The annual parade is more popular this year thanks to 'Pokémon Go'.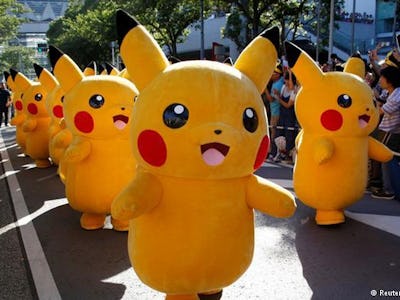 Reuters, K. Kyung-Hoon, Agence France-Presse
Since 2014 the Japanese city of Yokohama has hosted a Pikachu Parade in celebration of the popular mascot for the Pokémon franchise. This year's celebration saw hundreds of Pokémon fans turn out to see the parade, which has been bolstered thanks to this year's release of Pokémon Go
Over 50 life-size Pikachu mascots marched through the city on August 7, 2016 as visitors from all over the Japan and abroad gathered to see the globally beloved mascot. Actors in costumes paraded through the streets wearing Pikachu outfits despite the notorious Japanese summer heat. Attendees can be seen wearing Pikachu themed paraphernalia as the city itself was decorated with images of the popular character. Subway stations put up banners of Pikachu as storefronts put up Pikachu stickers on windows, all while vendors sold Pikachu-themed souvenirs.
Some people who came to Yokohama for the parade say that they came hoping to catch rare Pokémon in the popular Pokémon Go app, developed by American game maker Niantic. However, the actual parade predates the release of the augmented reality game and has no official ties to the mobile app.
Pikachu is one of the most popular characters in pop culture. The electric mouse has captivated many fans both inside and out of the Pokémon fandom. There are branded goods, merchandise, and even an illegal statue dedicated to the character in New Orleans, Louisiana.
People who attended the parade have been taking pictures and videos of the parade and uploading them to various social media channels, including Instagram and Twitter.