A Live-Action 'Pokemon' Movie Could Send Japan and China to Cultural War
I choose you, Pikachu, to balance international turmoil!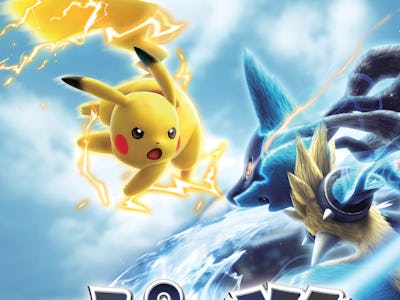 Nintendo
Nintendo's video game franchise Pokemon is a powerful property. And the dedicated, global fan base is hungry for a movie. But in attempting to exploit Pokemon's popularity, Nintendo may just be creating a very tricky political situation.
Studios are in a bidding war for the rights to make a Pokemon movie, and among the challengers is Legendary Entertainment, a relatively new powerhouse after recent box office wins like Man of Steel and Jurassic World. Legendary is run by Thomas Tull, but owned by China's Dalian Wanda Group. And a Chinese company adapting a uniquely Japanese property may well be the center of renewed tensions between the two nations.
Nintendo and the Pokemon Co. have worked for years to bring the monster franchise to Hollywood. In 1999, Warner Bros. imported the animated Pokemon: The First Movie at the height of Pokemon mania in the U.S. — and it grossed $165 million worldwide. So Warner Bros. seemed like a successor for a live-action version. But at the turn of the century, China emerged as the world's second largest film market, and Hollywood studios are now courting China with international co-productions. Among the most successful has been Legendary, with international hits like Pacific Rim, which scored eminently more in China than it did in the United States.
Political tensions between Japan and China date back centuries and through World War II, during the Japanese occupation of Manchuria. More recently, tensions peaked in 2014 over uninhabited islands in the South China Sea. Japan has long been the cinematic powerhouse in the region, but China's entertainment aspirations are creating a new battlefield. Can a beloved Japanese property truly be nurtured by a Chinese conglomerate?
As of now, the untitled Pokemon movie has not found a home, but THR is reporting Legendary is likely to win the bid. Should that happen, Pokemon wouldn't be the first time the Chinese company invested in a Japanese icon. In 2014, Legendary and Warner Bros. teamed with Japanese studio Toho to produce Gareth Edwards's Godzilla, a Hollywood reboot of the iconic Japanese monster from Ishiro Honda's 1954 horror Gojira. There were questions whether the Chinese audience members would be interested in the film, given the national cool toward Japanese exports; but the film went on to produce a huge opening weekend and proved itself a hit in the country.