Will PARTYNEXTDOOR's New OVO Album Help Him Escape Drake?
The initial signs point to an another mild, ineffectual full-length from Drake's first protégé.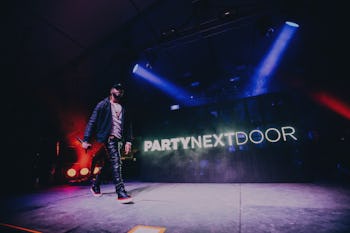 PARTYNEXTDOOR emerged in 2013: the first signee to Drake's OVO Sound label. The Toronto singer dealt in the kind of gauzy, trap-tinged, post-Weeknd R&B that would eventually become a constant for both the acts Drake signed and pop music in general. Drake stannery has gradually become a major force in hip-hop fandom and listenership, allowing his music to dominate the charts for long stretches; the measure of the success of a new album currently is whether it can dethrone Drizzy's April album VIEWS.
So from his earliest moment of public exposure — even without a charting pop hit — PARTYNEXTDOOR became an object of interest in the hip-hop-listening community. He's gearing up to release his third full length release (the aptly titled PARTYNEXTDOOR 3) next Friday the 12th. That's way more albums than most rap/R&B acts get green-lighted within a four-year period.
What is the source of PARTYNEXTDOOR's shelf-life, and musical identity? It's easy to theorize the first one: Its become a tradition that what Drake co-signs generally becomes an object of interest, whether that's Migos's 2013 hit "Versace," iLoveMakonnen, or recently, the unprecedented album sales for Gucci Mane's new mixtape-album Everybody Lookin (Drake signs a hook on the record, appeared with Gucci live and on Instagram). If Drake says it's cool, that tends to mean something, so with PARTYNEXTDOOR being one of Drake's formative major cosigns, there was already a built-in fanbase at least checking him out.
The issue, perhaps: PARTYNEXTDOOR didn't create a new party line in terms of so-called "Bedroom" R&B as much as maintain it. Though his songwriting is professionally flawless and often infectious, it lacks the eccentric, genre-hopping spark of progenitors like The-Dream or the more-unabashedly-lascivious Ty Dolla $ign. Inevitably, PARTYNEXTDOOR releases fade gradually into wallpaper.
PARTYNEXTDOOR 3 is being unveiled and hyped through a series of singles and leak in genres that Drake himself is working his hardest to purvey. The first is popular currently, with everyone from Rihanna and Tyga to Justin Bieber: a new variety of spare, infectious pseudo-dancehall music. Drake caught some criticism for appropriating patois phrases on Views hits like "Controlla," but ultimately — like 95% of Drake songs — they became ubiquitous enough that it was hard to focus on the ramifications anymore.
PARTYNEXTDOOR's "Not Nice" is punctuated by a lengthy vocal sample of dancehall icon Vybz Kartel, and features the Toronto singer firing off Jamaican slang at random intervals. It's so perfectly attuned to the pulse of time that it's almost offputting, and certainly it risks the blase. Meanwhile the other most successful release — hanging in the 90s on the Hot 100 — is a Drake collaboration that might as well be listed "featuring PARTYNEXTDOOR," "Come and See Me." Again, if it's got Drake on it, it's got automatic wings.
Nonetheless, these songs are stronger than the singles which anticipated PARTYNEXTDOOR 2, and that still peaked high on the album charts — #15. As long as PARTYNEXTDOOR stays on good terms with his hometown mentor, we can be sure that the man born Jahron Anthony Brathwaite will have a platform to release as much music as he wants, and that it will stay in music headlines. OVO-heads stay searching Google a lot — good for media rags — and will listen to anything with a Drake-ish, mello-trap vibe while they are waiting for the rapper/singer's next project.
PARTYNEXTDOOR's longevity is a contract we music fans have all tacitly agreed to. If it's not particularly stimulating, at least it's perpetually, inoffensively tolerable.