Drake's R&B Instincts Flourish On 'Views' 
A Drake album wouldn't be a Drake album if it isn't dripping with R&B.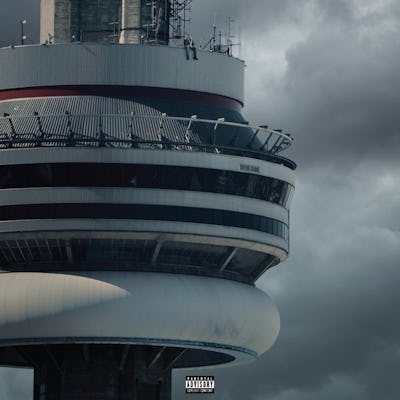 Drake's love for R&B is palpable, it's been so since day one. He's collaborated with R&B artists (Trey Songz, Mary J. Blige), referenced R&B beasts (Erykah Badu, Usher), has an infatuation for the late Aaliyah, has called himself the "light-skinned Keith Sweat," sampled countless of R&B songs (Ginuwine's "So Anxious", Jon B "Calling On You") and has upped his love for singing.
His latest release, Views, originally titled Views From the 6, an album on which he reminisces of reminiscing, Drake lets R&B Drake flourish. The album opens with him full-fledge singing of the falsehood of remaining friends after a break up on "Keep The Family Close," offering a glimpse of the healthy amount of spit-singing heard throughout the album. It's safe to say he's been soaking up every minute spent with his vocal coach, Dionne Osborne, of six years.
On top of a collaboration with Rihanna ("Too Good"), there are plenty of references to the singer, both direct and as a sub. (More as a sub, because come on, this is Drake.) Drake's pull and push relationship (or whatever it is) with Rihanna has always been a bit up in the air, but it's been a some thing since he dedicates the second verse to her on "Fireworks."
If you listen carefully you'll hear Jeremih alongside PARTYNEXTDOOR on the vibes-evoking "With You." OVO Sound R&B acts PARTYNEXTDOOR, Majid Jordan, and dvsn are heard throughout the album, but are also credited for penning several songs. All the words dripping with feels aren't entirely of Drake's.
Other artists make appearances on Views, by way of references (Creepin like Chilli," "More immature than Marques Houston") and samples. On "Weston Road Flows," Drake samples Mary J. Blige's "Mary's Joint." A throwback used to throwback to his days spent on and around Toronto's Weston Road ("Used to have secret handshakes/ Nowadays they just shakin' my hand to hide the tension"). Hidden gem Ideal's "Get Gone" is sampled on "Faithful," which is perfect for dvsn's Daniel Daley's soft vocals which come in at the latter end of the song.
Drake samples the Norwood siblings, pulling Ray J's "One Wish on Redemption" and Brandy's "I Dedicate (Part 2) Fire & Desire." But before dedicating himself to one woman, he transitions from "Summers Over Interlude, which features solely the vocals of one half of Majid Jordan, Majid Al Maskati; It's a sensual slow burner thats reminiscent of Smokey Robinson and The Miracles' "Ooo Baby Bay." Drake closes *Views with the title track, which opens with a sample of The Winans' gorgeous "The Question Is."
Views feels like a throwback; it's filled with appreciation to R&B and nostalgia — Drake's nostalgia. It mirrors the emotional appeal of earlier work and pulls lyrical content from stories introduced from those same projects. It's strength is it's weakness: reminiscing. At the same time, it's also what has been at the core of Drake's career, as has his love for R&B.