The White House Will Let Google's Project Wing Test Delivery Drones
They will "help regulators answer critical safety and human factors questions."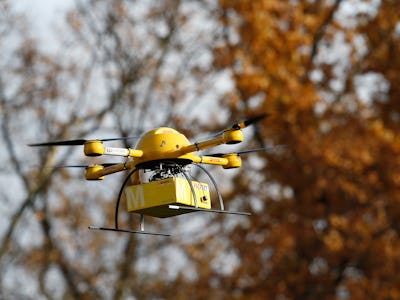 Getty Images / Andreas Rentz
The White House revealed plans Tuesday to make the United States more friendly to drones used for deliveries, farming, and other tasks suited to the flying robots.
It was part of the executive branch's first-ever "Workshop on Drones and the Future of Aviation" that outlined far-reaching plans: they range from New York's plan to invest $5 million in the drone industry to a commitment to using drones in search-and-rescue operations. They'll also support efforts to regulate drone racing, test long-range deliveries, and address other challenges unmanned aerial vehicles will come across as they become cheaper and more common.
"Since President Obama took office in 2009, developments in aviation, sensing, and software technology have powered a revolution in unmanned flight," reads a White House press release about the efforts. "In the next decade, the burgeoning commercial drone industry is projected to generate more than $82 billion for the U.S. economy and, by 2025, could support as many as 100,000 new jobs." These changes are supposed to help the drone industry reach those high expectations.
Here are some of the highlights from the White House's plans:
Seeing how the public feels about delivery drones
The Inspector General for the U.S. Post Office plans to "publish new findings and analysis on the public's rapidly-evolving opinion of drone delivery as a potential future logistics technology." That's good news for companies like Amazon, which took its drone delivery tests to the United Kingdom after it was shut down by the federal government in the U.S.
The White House also plans to let Google's Project Wing test delivery drones in controlled environments to "help regulators answer critical safety and human factors questions for UAV cargo delivery operations" in what appears to be a clear response to FAA rules that crushed hopes of drone deliveries happening in the near future earlier this summer. The work will "focus on encouraging good citizenship in operation and collaboration between and across industry and government" as it pertains to the growing UAV industry.
Using drones to respond to disasters
The United States Department of the Interior plans to use drones to share wildfire location information with the public by July 2017; to create payloads for drones that would typically be used in manned flights by December 2017; and to develop a training program for the use drones in search-and-rescue operations by October 2018. All of these changes are intended to save both lives and taxpayer dollars.
Collecting more information about the planet
The National Oceanic and Atmospheric Administration plans to use drones to gather precise gravity measurements that can "create a new vertical elevation reference system that will improve flood plain mapping and help mitigate risks for coastal communities from tsunamis, hurricanes, and storm surges." It will also gather more information from the oceans, including "critical weather, air quality and ocean monitoring" as well as "management of marine resources."
Defending privacy with new guidelines
In July, the Senate passed a Federal Aviation Administration reauthorization bill that stripped crucial privacy protections from its provisions. This was bad news because current guidelines about the space where drones and privacy intersect aren't clear enough to be useful.
That's why the White House urged the Future of Privacy Forum, Intel, and Precision Hawk to publish a report called Drones and Privacy by Design: Embedding Privacy Enhancing Technology in Unmanned Aircraft. That report is meant to allow "drones to reduce privacy risks while tackling important, often life-saving missions" like the various initiatives that were mentioned above.
Watch the full workshop from Tuesday on YouTube: