Everything You Need to Know About the IDRA, ESPN's New Drone Racing Partner
ESPN has launched IDRA, and all of drone racing, into the mainstream.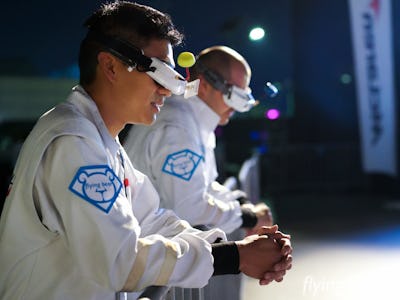 IDRA
Drone racing is officially a mainstream broadcast sport: ESPN announced a multi-year media distribution deal with the International Drone Racing Association (IDRA) today.
Events like the World Drone Prix in Dubai and the start of the Drone Racing League have already shown what a high-production drone race can look like. And those events didn't have the "worldwide leader in sports" backing them (just million-dollar prizes).
"Drone racing gives anyone the ability to fly like a superhero," Dr. Scot Refsland, founder and chairman of the IDRA, says in a public statement about the new deal with ESPN. "Because everyone can experience the thrill of racing as if they were sitting in the drone cockpit, the sport is skyrocketing. To go from a first ever, U.S. national drone race to partnering with ESPN for international distribution in eight months is truly a sign of great things ahead."
First stop: a race on New York City's Governors Island broadcast live on ESPN3 on the first weekend of August.
If you want to get pumped (or just want to experience the power of a good commercial), you'll want to watch this IDRA promo video:
But what exactly is the IDRA, and why did ESPN choose to blast them out of obscurity? A quick comparison between the above video and the videos IDRA has put out in the past is a clear example of what top-class video producers can add.
For drone racing enthusiasts, IDRA is drone racing. They organize the Drone World Cup, the U.S. National Drone Racing Championships, the World Drone Racing Championships, and hosted the World Drone Prix in Dubai. They also have a definitive ranking of all the drone pilots. It's safe to say IDRA's had a busy first eight months of existence.
It takes a lot of motivation to create something out of nothing, especially when that nothing has little precedent.
Drone racing is most comparable to NASCAR and Formula 1. All three are vehicle races, but drones don't have a person inside of them. Also, to state the obvious, drones fly. All of IDRA's races use the most advanced drone technology that require video headsets to operate. Video relay is something the IDRA's founder is familiar with: Refsland has a Ph.D. in Virtual and Augmented Reality from the University of Southern California and is "particularly interested in the intersection of drone racing, eSports, and mixed reality technologies," according to his IDRA bio page.
Clearly defined rules lay out how IDRA races happen. The World Rotor Sports Association has an official rulebook (now on version 1.4.2), that IDRA follows, and it covers everything from general piloting rules, to race classes, to risk management.
This dedication to organization has helped the IDRA become the NFL of the drone world. In the past, spectators have been able to participate in their events from the first-person view of the drone operator's video goggles. World-class design like that of the World Drone Prix was mesmerizing. It will be exciting to see what they will be able to do with the clout of ESPN.
"We look forward to providing drone racing fans a larger platform to access this exciting world," Matthew Volk, ESPN director of programming and acquisitions says in a press release. "Drone racing is an opportunity to reach and connect with a growing and passionate audience."
ESPN is betting on a sport of the future with this partnership. But hey, it can't be any more boring than ESPN's Sunday bowling broadcasts.