Amazon Will Test Out Drone Delivery in the UK After USA Setback
The UK's Civil Aviation Authority went where the U.S.'s Federal Aviation Administration would not.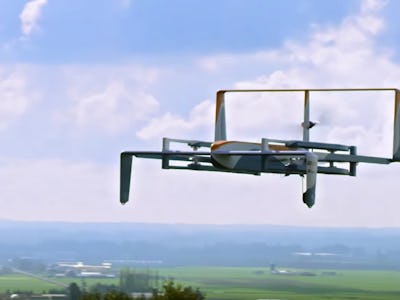 Amazon
Amazon, stonewalled by the Federal Aviation Administration in its attempts to bring drone delivery to the United States, is pulling a reverse-Brexit and taking its services to the United Kingdom.
The delivery service giant announced today that it would partner with the UK government to move forward with testing package delivery via small drones. According to Amazon, the UK's Civil Aviation Authority has already agreed to allow Amazon to explore "beyond lines of sight operations, sensor performance, and a delivery system wherein one person operates multiple drones simultaneously." While no names were dropped, the whole thing does read like a passive-aggressive subtweet to the FAA:
"The UK is a leader in enabling drone innovation — we've been investing in Prime Air research and development here for quite some time," said Paul Misener, Amazons Vice President of Global Innovation Policy and Communications, in the release. "This announcement strengthens our partnership with the UK and brings Amazon closer to our goal of using drones to safely deliver parcels in 30 minutes to customers in the UK and elsewhere around the world."
This seems like a fairly strong PR move for the UK, which is not having an awesome summer. While we may not envy them, with their Brexits and their Boris Johnsons, we might yet be forced to watch as UK citizens receive their parcels in a Domino's-like 30 minutes or less (according to the statement) while we still have to wait two days like cave people.
Prime Air refers to what Amazon is calling the "future delivery system." The program was initially designed to be able to get packages to customers in 30 minutes or less. The drones couldn't carry packages weighing more than five pounds, but Amazon found that the vast majority of purchases were under that limit.
It looks like the Civil Aviation Authority, Britain's version of the FAA, is taking a much more lenient look at the idea of delivery drones than the American agency.
"We want to enable the innovation that arises from the development of drone technology by safely integrating drones into the overall aviation system," Tim Johnson, CAA Policy Director, said in Amazon's press release. "These tests by Amazon will help inform our policy and future approach."
Just last month, the FAA released a new set of rules that basically quashed any hope of delivery drones in the U.S., at least in the near future. The FAA's ruling says that unmanned aerial vehicles have to be flown within a direct line of sight of the pilot. Some companies, like the medical-delivery drone service Flirtey, have been able to skirt the edges of the FAA ruling during ship to shore deliveries, but in a crowded urban area, direct line of sight is going to be impossible for delivery drone pilots.
CEO Jeff Bezos first introduced the idea in a 60 Minutes interview in December 2013. "I know this looks like science fiction," Bezos told correspondent Charlie Rose. "It's not." The whole interview actually predicts the future pretty accurately; Bezos says drone delivery is just a few years away, that it will be possible within 30 minutes, and that the biggest hassle is the safety-related red tape, which is basically what turned the FAA off to the whole thing. Its CAA counterpart in the UK, however, seems more confident that it can prevent said drones from "land[ing] on somebody's head while they're walking around their neighborhood."