Brexit Does Not Mean the UK Will Leave the European Space Agency, Right?
A shocking win for the Leave campaign doesn't mean the ESA will lose the UK.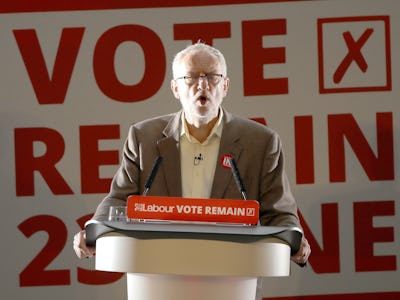 Getty Images / Christopher Furlong
If you've been too wrapped up in what's going on stateside, the United Kingdom has just voted to leave the European Union, and things aren't going very well in the wake of it all. The vote, referred to as "Brexit," has already sent the pound tumbling down by 8 percent within hours. The resources and partnerships that UK-based companies rely on are now hanging in the balance as the vote moves forward.
However, a UK exit from the EU should not affect the country's involvement with ESA. The ESA and EU are two separate entities with different goals and member states. There are opposite predictions though.
Ahead of the vote, former UK Minister of Science, Lord Paul Drayson spoke with Scientific American about the devastating effects the vote could have: "For some of the really big problems we're trying to tackle in science, whether it requires big facilities or research across multiple regions, the fact that we are part of this wider community is clearly helpful," Drayson explained. "Whether that's things like CERN or the Horizon 2020 projects — there are all sorts of examples of specific projects which have been facilitated through that natural collaboration which comes from being part of the European community."
Drayson served as Minister of Science from 2008 to 2010 before founding Drayson Technologies, where he now sits as CEO. Drayson pointed directly to his company and spoke on how they would be affected, saying that "it's been possible for us to attract people from places like Romania, France, Spain, Portugal, who have come with Ph.D.s in these subjects to join our team here and to make a major contribution." His company could be effectively cut off from those resources under the new vote.
"From invention, discovery, research on one end, through to the commercialization of that research and bringing new products to market, therefor generating wealth, all of it would be negatively affected by a decision to withdraw." Drayson, who has been "on the inside" due to his position, hopes for that kind of collaborative future. "Yes, we could continue as a nation," he said, "but we would be diminished by leaving."