New Scream Queens Season 2 Teaser Is Sassy as Hell
There's no way this mental institution can handle the Chanels.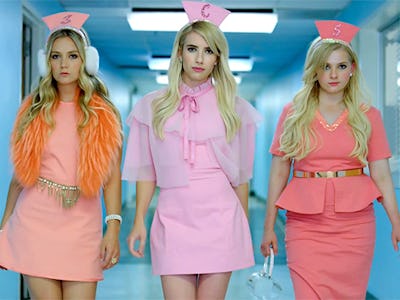 Scream Queens was the most unexpected fall delight. Crude, crass, and hilarious, with inspired casting (Emma Roberts as a Taylor-Swift like manipulator, Jamie Lee Curtis as the ruthless college dean, Nick Jonas as a dim gay fratboy, and Niecy Nash as an unbalanced security guard) and gonzo plotting, it rose above its own premise and skyrocketed to horror-comedy gold. Because it was a Ryan Murphy show, it went off the rails halfway through the season, but it had a murderously fun finish as the three surviving Chanels (Emma Roberts, Billie Lourd, and Abigal Breslin) landed in a mental institution.
Season 2 will continue its on-point casting with America's Hot Dad John Stamos and the only earnest actor from the Twilight saga, Taylor Lautner, as doctors in the new hospital setting. Check out the teaser below.
Scream Queens Season 2 begins September 20 on Fox.