Marvel Says Daredevil, Other Netflix Heroes Won't Be in MCU
The Netflix shows are moving too quickly to make it on the big screen.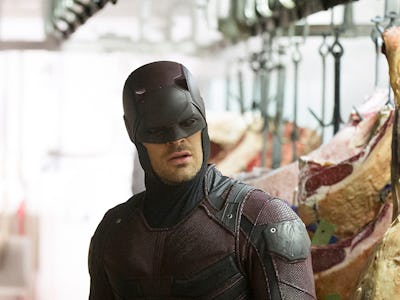 Netflix
Marvel has a robust, crowded universe of comic book superheroes that spans movies, network TV, and critically-acclaimed Netflix shows. Unfortunately, Marvel TV president Jeph Loeb says Daredevil, Luke Cage, and the Netflix roster of street-level brawlers will probably never make it onto the big screen with Captain America, Iron Man, and Thor.
Marvel's endgame, of course, is 2018 and 2019's Avengers: Infinity War, where most of the Marvel superheroes are expected to unite to battle Thanos.
Most fans were holding out hopes that Netflix's gritty defenders of Hells Kitchen would cross paths with the Avengers and the Guardians of the Galaxy. Unfortunately for them, Loeb told Slashfilm during the TCA press tour on Friday that, unlike the comics, Netflix's heroes are probably going to stay out of the cinematic universe. Their stories are still technically in the same "universe," but their storylines will remain largely separate, and characters are unlikely to cross over between Netflix streams and the big screen. It's frustrating, because Loeb said it wasn't even a storytelling decision. Instead, it's all logistics.
"I can tell you that part of the challenge of doing this sort of thing is that the movies are planned out years in advance of what it is that we are doing," Loeb told Slashfilm. "Television moves at an incredible speed. The other part of the problem is that when you stop and think about it, if I'm shooting a television series and thats going to go on over a six-month or eight-month period, how am I going to get Mike [Colter] to be able to go be in a movie? I need Mike to be in a television show."
Not to break the hearts of fanboys and fangirls (and to maybe leave room if an opportunity for a crossover does happen), Loeb added that, "anything is possible."
"[A]s things go by, as the story dictates it, we've always been big fans of providing Easter eggs for our fans, but we never want to be known as an Easter egg farm," Loeb said. "It has to work within the story. We never want to do Luke Cage gets into a cab as Foggy Nelson and Matt Murdock are getting out of the cab. For those of you that are old enough to know this reference, it's not when The Man from U.N.C.L.E. was on Please Don't Eat the Daisies. You actually get to see our characters interact with each other."
Personally, we'd love to see Matt and Foggy exchange a cab with Luke Cage. But it sounds like Marvel won't even bother trying to attempt – crossovers unless it can be something substantial, besides Tony Stark just hanging with Jessica Jones (imagine those two drinking together). But how can Marvel have it happen organically if it will never actively pursue it?
Still, the Easter eggs Loeb talked about can be seen in both TV and film. This fan-made video made before Captain America: Civil War outlines a lot of the details big and small that maintain the world of the Avengers is the same Daredevil and the like inhabit.
Still, Loeb's statements seem to echo the widening divide between Marvel's movies and TV shows. Marvel TV star Chloe Bennet spoke openly at a recent convention that Marvel "doesn't care" about its shows like Agents of S.H.I.E.L.D. "The Marvel Cinematic Universe loves to pretend that everything is connected, but then they don't acknowledge our show at all. So, I would love to do that [a crossover], but they don't seem too keen on that idea," she said at a panel at Wizard World in Des Moines earlier this year.
Loeb also mentioned the real unity to Marvel's movies and TV goes beyond characters doing cameos or team-ups, but that Marvel's unified approach to its adapted media. "[O]ur feeling is that the connection isn't just whether or not somebody is walking into a movie or walking out of a television show. It's connected in the way that the shows come from the same place, that they are real, that they are grounded."
Marvel's Luke Cage premieres on Netflix on September 30.