A Brief History of America's Best Worst Superhero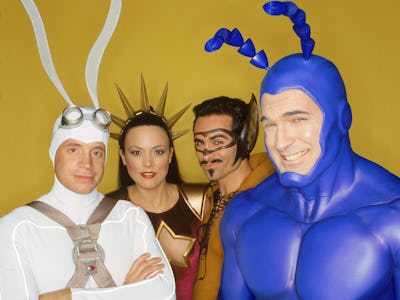 The cult superhero comedy, The Tick, starring Patrick Warburton, aired on Fox for nine episodes in 2001. Now it's getting a reboot courtesy of Amazon, and will hit the internet shortly. This time, the eponymous hero will be played by Peter Serafinowicz — the stuffy flatmate in Shaun of the Dead and "A-holes" guy from Guardians of the Galaxy. His character is the worst superhero ever and also, paradoxically, the best.
If you missed out on the Fox show, or the mid-90s kids cartoon, or even the indie comics that spawned it, fret not! Here's everything you need to know about the one-man Blue Man Group.
Origin Story
The Tick was created in 1986 by an 18 year-old aspiring comic book artist named Ben Edlund (you might know him as the writer of some of your favorite Supernatural and Firefly episodes), who drew the Tick as a mascot for his neighborhood comic shop in Massachusetts. The owners loved the goof so much they self-published the character in his own series, which took off for almost a whole decade.
After some time, Hollywood came knocking in the form of animated series The Tick, which aired on Fox Kids in 1994, later earning cult status in reruns on Comedy Central.
But Who Is the Tick?
No one knows. He might be an alien. Maybe an escaped insane asylum patient (he was in an issue in the comics)? In the cartoon he was a guy who passed a superhero test, pen, paper and all. In the Fox TV show starring Warburton (who also voiced the character in the cartoon), he's tricked into protecting The City (which was its proper name) after the employees of a bus station he swore to protect kick him out.
Regardless of medium, though, the Tick is a muscular, square jawed idiot with a good heart, who exists as a bonafide parody of the superhero genre. Before Kick-Ass, the Tick spoofed all the hallmarks of Golden, Silver, and Bronze Age superheroes. He's super strong, "nigh-invulnerable" (except emotionally), and his antennae are pretty sensitive too (if removed he loses sense of balance). Tick is also capable of "drama power," which allow his abilities to increase as tensions get higher and situations more dire.
Oh, and his catchphrase is a bombastic, girthy declaration of "SPOOOOOOOOOON!", which he started one day while eating breakfast.
Pals and Worser Pals
No superhero is an island.
Tick's most trusted sidekick is Arthur, who appears in the cartoon and live-action series dressed as a moth and is capable of flying. Captain Liberty (American Maid in the comics), is a Wonder Woman/Captain America hybrid, who may be the only competent superhero in The City, but who is also shallow and self-absorbed. And then there's Batmanuel, a Spanish spoof of Batman who has a complicated relationship with Captain Liberty.
These jokers never really form a Justice League or even organization of any kind. They just sort of fuck around.
The Big Bad
In the new reboot, Jackie Earle Haley will play The Terror, one of many one-note villains who fights the Tick in all his adventures. This is appropriate because Jackie Earle Haley is terrifying.
Best Cartoon, Best TV Show, Gone Too Soon
Shows that are too good often have a short life on air. The animated series was a hit that lasted for three seasons, but it's the live-action counterpart that deserves special recognition.
Competing against the likes of Survivor and 24, The Tick earned praise and rave enthusiasm. Sadly, though, it didn't find enough of audience to cover the show's costly production. But, that doesn't mean Ben Edlund, Warburton, David Burke (Arthur), Liz Vassey (Captain Liberty), Nestor Carbonell (Batmanuel), and director Barry Sonnenfeld didn't craft a razor-sharp parody that remains a favorite to this day.
"That, to me, was an honor," Warburton said in a 2004 interview. "To get into the blue suit and get to be The Tick. I loved that. I just wish that our beloved Fox network had actually given us a shot instead of killing off the show as they did."
Over the years, Warburton and others involved have tried to resurrect the franchise, often as a film. But now, in our age of Peak TV, the character will live as a digital series on Amazon. The question remains if Tick will generate the same enthusiasm that's kept him alive for the last three decades.