'The Tick' Amazon Pilot Will Star Peter Serafinowicz
The 'Shaun of the Dead' and 'Guardians of the Galaxy' star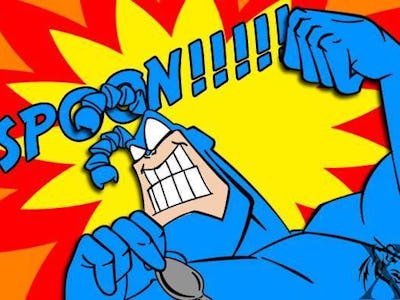 New England Comics / Ben Edlund
The Tick wants to make a TV comeback. Following news of a pilot order from Amazon, Peter Serafinowicz has been tapped to play the show's title character.
Serafinowicz, 43, appeared as Denarian Saal in Guardians in the Galaxy in 2014, but fans may also recognize him from Shaun of the Dead and a litany of cult classic British comedies.
According to Deadline, the new series will catch up with The Tick battling memory loss before he joins forces with Arthur Everest (played by Griffin Newman) to fight evil. Arthur's had his own share of trouble, though. Arthur is largely dismissed after he's diagnosed as schizophrenic for making claims about evil forces wresting control of the city. Enter The Tick.
The Tick has made several appearances on screen, including a 1994 animated series and a nine-episode, live-action series on Fox in 2001. The new series covers some familiar ground with The Tick at odds with reality, but will feature new characters like Arthur's sister, Dot (Valorie Curry).
The new series will summon some of the original creative team and leadership of the Fox for The Tick's next shot. Per Deadline's report, Executive Producer Barry Josephson is returning, along with Ben Edlund, who created the character and was involved in The Tick's two small screen appearances. Edlund will be writing and executive producing the new series. Among the newcomers, though, is Transcendence director Wally Pfister, who will direct the pilot.
Serafinowicz's casting choice starkly contrasts the star of 2001's live-action series, Patrick Warburton. The Tick has typically appeared as large and very muscular, neither of which are obvious descriptors for Serafinowicz. Here's to hoping for the return of "SPOON!."